Becoming a Cybersecurity Solutions Provider
Find out where you are on your security journey and learn the path you'll take to expertise
Embark on your quest to become an impenetrable cybersecurity solutions provider
Cybersecurity has caused quite a shift in IT. Threats and attacks go beyond what traditional security tools and solutions can stop, which means keeping the status quo will only make things worse. But adding or updating your security services isn't a set-it-and-forget-it process. It's a journey that takes time, education, and collaboration to keep solutions providers and SMBs out of harm's way.
Where are you on your journey?
There are many steps to becoming a cybersecurity expert. How far along are you?
Starting your cybersecurity journey
You understand that security is important and have a desire to add it to your services, but you don't know where to begin. Even the most experienced security providers started here, so you're in good company. This is your first step.
Start your journey >>
Expanding your cybersecurity services
Your awareness and commitment to security are growing. You're having more in-depth conversations with your clients and making strides to monetize your offerings. You're looking to expand upon your cybersecurity portfolio and partner with an MSSP to answer the harder questions and provide the air cover you need to grow. You make recommendations but need to go a step further. Your journey continues.
Expand your services >>
Formalize your cybersecurity expertise
You're fully invested and look at all your services through the lens of security. You talk with your clients, offer a clearly defined roadmap for every security situation, and outline risk ownership. You're a security-first MSP with the cybersecurity knowledge and certifications to become a trusted security advisor.
Formalize your offering >>
ConnectWise software & services
Advanced cybersecurity threat detection & response
As the cybersecurity landscape continues to change, you need the latest tools to keep up. With ConnectWise Fortify™ equip your team with the tools required to engage in informed conversations with your SMB clients, provide endpoint and network detection and response capabilities, protect Microsoft® cloud-based apps from business email compromise and ransomware attacks, and assess overall risk on an ongoing basis. At the same time, leverage the expertise of a global SOC, operating 24/7 and staffed with cybersecurity experts.
Explore ConnectWise Fortify >>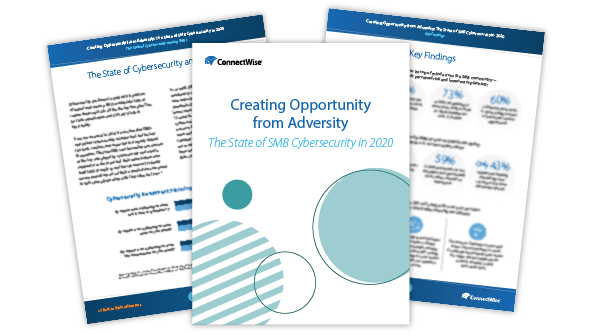 The state of SMB cybersecurity
Cybersecurity isn't a fad. Your clients are waking up to the threats they face, and they're making investments to improve their security. SMBs lack in-house security talent, and they're looking outside of their businesses for help—and they've set their sights on you. Are you providing the 'right' solutions? If not, your clients will look to someone else.

This presents a challenge. You need the knowledge, solutions, and team to deliver the security your clients expect. We're here to help by providing the products and education to deliver security yourself, experts to deliver security on your behalf, or the backing and support to deliver security together.
Download our study to get to the heart of what SMBs want when it comes to security >>
Our promise to you
We're committed to delivering the industry's best education, resources, software, services, and community for MSPs to build, deliver, and grow their cybersecurity services.
ConnectWise Partner Program for Cybersecurity
The ConnectWise Partner Program for Cybersecurity is the next step in our legacy of supporting our partners' growth and expanding their business. As a member, you'll get access to best practices, tools, resources, marketing assets, and a dedicated team hyper-focused on guiding you along every step of your cybersecurity journey.
Learn more >>
Cybersecurity Playbooks
Covering three levels of cybersecurity knowledge (Fundamentals, Advanced, Masters) The IT Nation Secure MSP+ Playbooks provide prescriptive guidance to build out your cybersecurity program, supported by various cybersecurity frameworks (NIST, MSP+, and more) and maturity models focused on success.
Get my playbook >>
Cybersecurity education & certification
IT Nation Secure offers persona-based cybersecurity training and certification covering everything from foundational security practices to in-depth operations. Take your product usage up a level with product education and training via ConnectWise University.
Sign up for IT Nation Certify >>
Cybersecurity software & products
You have the knowledge and training, now you need the tools to put them into practice. We deliver the latest in cybersecurity products from our growing family of ConnectWise Fortify products to our evolving ecosystem of the industry's top third-party security solutions. Our focus is on providing products optimized for MSPs serving the SMB community.
Explore ConnectWise Fortify >>

SOC expert services
Armed with advanced tools and up to date certifications, our 27/7 Security Operations Center delivers scalable managed threat detection and response. Our team is ready to monitor, mitigate, and resolve whatever threats your clients may face.
Cybersecurity community
A community like none other, IT Nation Secure brings together cybersecurity experts from every corner of the industry and at every stage of their journey. Whether in-person or virtual, learn about the latest trends, topics, and tactics from other partners focused on keeping the SMB community safe.
Watch the IT Nation Secure keynote >>
ConnectWise Security Trust & Compliance Center
Get a look at our dedication to providing 24/7/365 security for the ConnectWise Platform