Your journey to becoming a successful cybersecurity solutions provider begins here
Assess where you are on your cyber journey
Working together to advance your next steps in security
Between the chaos of rapidly evolving cyber threats, the tools to defend against them, and the expertise required to make sense of it all, becoming a successful cybersecurity solutions provider can be frustrating. You're not alone!
Many ConnectWise partners began their cybersecurity journey right where you are today. No matter where you are in the scope and maturity of your services—whether solving for a specific 'defense-in-depth' technology challenge or customer use case requirement—ConnectWise stands ready with everything you need to improve your clients' security outcomes and fuel your business for ongoing success.
ConnectWise Security Management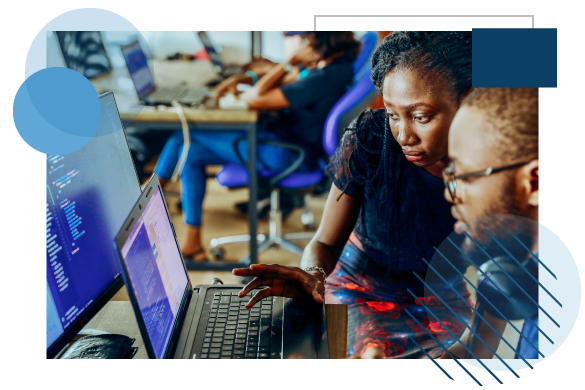 Helping you keep your clients' infrastructure up and running and their critical assets secure
Success in cybersecurity calls for a partnership built on shared goals and commitments. ConnectWise and The IT Nation community of peers, thought leaders and experts are here to help. Your access to educational resources, conferences, in-depth training and community-based events will deepen your knowledge and expertise. When combined with security solutions designed to do more with less, you'll be well positioned to confidently deliver the services your clients need while growing at the pace that's right for you.
You and ConnectWise, a partnership built on shared goals and commitments
Success in cybersecurity calls for a partnership built on shared goals and commitments. ConnectWise is ready to help you advance your business growth with confidence, from just getting started to scaling a proven cybersecurity practice. Together we'll exceed your clients' security and compliance needs while taking your business to the next level. Are you ready?
Build
Prepare your operational infrastructure and foundational know-how
Through the ConnectWise Partner Program, we will help you think through your business goals, create a vision for what your success in cybersecurity looks like, and assist you in implementing the right technology components and functional procedures required to build out the engine that will power your new security service offerings.
Start your journey >>
Launch
Ready your go-to-market strategy and successfully rollout your offering
Working with your dedicated Partner Development Manager (PDM), we will help you develop your sales and marketing readiness for launch success. From white-label demand generation assets and campaigns-in-a-box to pre-sales support selling to net-new prospects, your PDM will provide the assistance you need to 'press GO' with confidence.
Expand your services >>
Learn and Grow
Deepen your technical skills, credentials, and cybersecurity expertise
As your practice evolves, The IT Nation community of peers, thought leaders, and experts are here to take your business to the next level. Your access to educational resources, conferences, in-depth training, and certifications will sharpen your cybersecurity knowledge—positioning you to take full advantage of your opportunities for profitable growth.
Formalize your offering >>
"ConnectWise helped us develop a better security business than we could have built ourselves. Instead of having to assemble our own offering, everything we need is in the portal. That means ConnectWise partners can go to market tomorrow instead of six months from now."
Steve Tygat, Founder, Tyneso
Cybersecurity resources from The IT Nation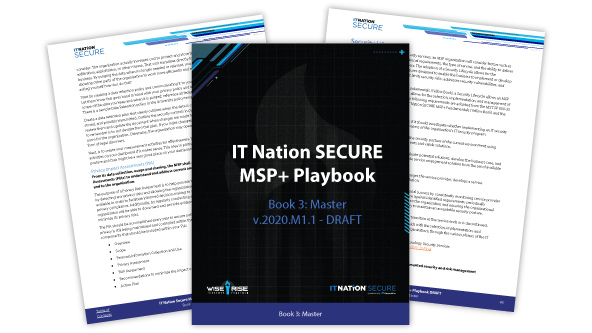 IT Nation Secure MSP+ Playbooks
Covering three levels of cybersecurity knowledge (Fundamentals, Advanced, Masters), The IT Nation Secure MSP+ Playbooks provide prescriptive guidance to build out your cybersecurity program, supported by various cybersecurity frameworks (NIST, MSP+, and more) and maturity models focused on success.
Get my playbooks >>
Cybersecurity education & certification
IT Nation Certify offers persona-based cybersecurity training and certification covering everything from foundational security practices to in-depth operations. Take your product usage up a level with product education and training via ConnectWise University.
Sign up for IT Nation Certify >>
IT Nation Secure
A community like none other, IT Nation Secure brings together cybersecurity experts from every corner of the industry and at every stage of their journey. Whether in-person or virtual, learn about the latest trends, topics, and tactics from other partners focused on keeping the SMB community safe.
Learn more about IT Nation Secure >>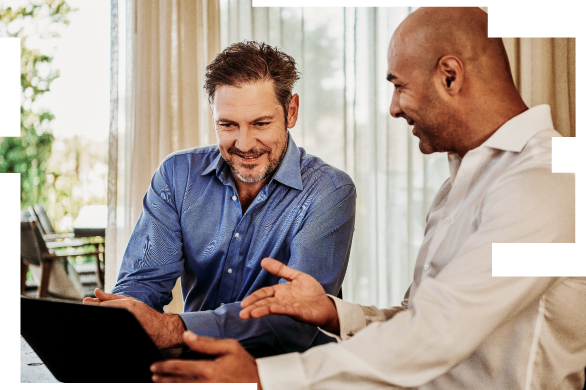 ConnectWise cybersecurity solutions
You've got the knowledge and support to deliver the cybersecurity services your clients demand; all you need are the tools and resources to bring it all together. Arm your practice with the tools required to engage in informed conversations with clients, provide endpoint and network detection and response capabilities, protect Microsoft® cloud-based apps, and assess security risk regularly.
We didn't forget about staffing. Along the way, we have you covered with a dedicated, 24/7 SOC staffed with cybersecurity experts and analysts.
Explore ConnectWise cybersecurity solutions >>
Get your cybersecurity practice started
Hear how other ConnectWise partners have grown their cybersecurity practice
Get more out of ConnectWise