ConnectWise SIEM™
Focus cybersecurity data streams to enable enterprise-wide visibility, real-time threat detection, and simplified compliance reporting
Consolidate and correlate cybersecurity data to improve coverage, detection, and compliance
Cybersecurity teams manage large amounts of data generated at high speeds from sources across their IT landscape. And as the type, frequency, and severity of threats intensify, detecting incidents becomes more difficult. Without ways to centralize and retain data, analyze it at scale, and provide meaningful context to events, many threats go unnoticed, exposing organizations to regulatory fines and possible attacks.
ConnectWise SIEM breaks down data silos to consolidate log data from all endpoints, networks, apps, and the cloud including Microsoft 365 for improved single-pane visibility. With advanced correlation and real-time alerting, analysts can quickly and effectively identify, investigate, and address high-priority threats.
Our single platform offers TSPs choice and flexibility to meet client security needs. ConnectWise SIEM gives your team the autonomy and control to manage workflows, drive decisions, and take action. Backed by proprietary threat research and intelligence and certified cyber experts, ConnectWise Co-Managed SIEM™ offers enterprise-grade, 24/7 managed detection and response that's profitable and easy to sell without the challenges of building and maintaining your own SOC.
SIEM security, your way
ConnectWise offers a wide selection of SIEM customization options, so you have the freedom to choose what works best for your business.
Leverage the ConnectWise SOC, or use your own
Flexible 30-, 90-, and 365-day log options
Service-level objectives (SLOs) to meet your needs
Enhance network visibility, threat detection, and compliance reporting
More data-driven decisions
Fully leverage data and streamline workflows in a purpose-built, multi-tenant MSP-focused platform.
Stronger, extended cybersecurity posture
Improve visibility, detection speed, and accuracy with less fatigue and fewer false positives.
Rapid and effective threat detection
Real-time alerting and workflows stop suspicious activities and overlooked incidents from escalating into serious attacks.
Efficient incident management
Streamlines responses to help your teams take quick and effective action to detect threats and minimize.
On-demand compliance reporting and auditing
Simplifies requirements for cyber insurance, PCI-DSS, HIPAA, FFIEC, and CMMC (NIST 800-171) to save time, address violations early, and avoid penalties.
Integrated alerts, ticketing, and response
ConnectWise PSA™ and ConnectWise Automate™ provide real-time notifications, automated ticketing, and incident response on a single platform.
Microsoft 365 integrations, monitoring, and alerting
Multiple dashboards support alerting and incident response for your entire Microsoft 365 environment.
In-region log data storage
Provides data residency for personal information within SIEM log files to meet GDPR and other privacy and security laws.
Enhanced alerting and event chaining
Group individual events and patterns into single, high-fidelity alerts for threats that may otherwise be ignored.
"With ConnectWise, we've reduced false alarms by 75%. We wanted alerts to be actionable. Our customers like the improved process too: They're not getting bombarded with tons of alerts and only receive the ones that require their attention."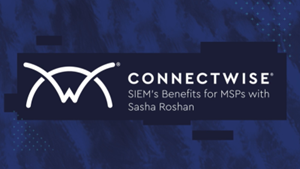 Hear from the Experts: SIEM Benefits for MSPs
Discover how SIEM can streamline the cybersecurity of your organization without additional full-time employees or complex implementations.
Watch the webinar >>
ConnectWise Cyber Research Unit
Comprised of seasoned cybersecurity professionals with deep engineering, IT administration, cybersecurity operations, and incident response expertise, our SOC works closely with the CRU for real-time threat management.
Learn more >>
Related ConnectWise cybersecurity products
Unlock more cybersecurity resources from ConnectWise
2023 MSP Threat Report
The ConnectWise "2023 MSP Threat Report" addresses the cyberthreat landscape specifically for MSP, including a review of 2022 and future predictions.