ConnectWise SIEM Solution for Complete Cybersecurity
Deliver greater threat visibility, faster response times, and stronger layers of defense for your clients.
TSPs manage thousands of high-profile clients and end users, making preventive security measures a must-have—but they aren't always enough. Security Information and Event Management (SIEM) solutions provide an additional layer of security by detecting suspicious behavior, but are routinely difficult to manage, expensive to deploy, and require a significant amount of in-house security expertise.
ConnectWise offers a powerful alternative, delivering a comprehensive, flexible SIEM solution to streamline safety and security across your network—without additional full-time employee (FTE) costs or complicated implementations. Turn to ConnectWise SIEM and expand your security perspective to both prevention and detection today.
SIEM security, your way
ConnectWise offers a wide selection of SIEM customization options—and the freedom to choose what works best for your business.
Leverage the ConnectWise SOC, or use your own
Flexible 30-, 90-, and 360-day log options
Service-level agreements (SLAs) to meet your needs
On- and off-premise deployment options
Top 3 reasons why TSPs may need a SIEM solution
Their clients have compliance and regulatory requirements
From HIPAA to FINRA and PCI-DSS to CMMC, clients can have a wide range of compliance and regulatory needs. SIEM enables you to meet them with flexible log capture, retention, and review features.
They have too many data sources and alerts
Many TSPs have data coming in from multiple data sources and they are flooded by alerts. A SIEM helps them aggregate the data and filter out the noise.
They see the need for added protection
Most TSPs realize that relying on prevention alone is horribly insufficient and can't stop all threats. Add an extra layer of defense—and catch the threats that could crush your clients—with a SIEM solution that provides full visibility and multi-source data analytics to detect events when prevention fails.
"You make us look like rock stars. Our clients are so impressed, and we look like the Avengers. Y'all are so awesome, and we knew it was the way to go."
Myriam Martinez, Director of Services, Kyber Security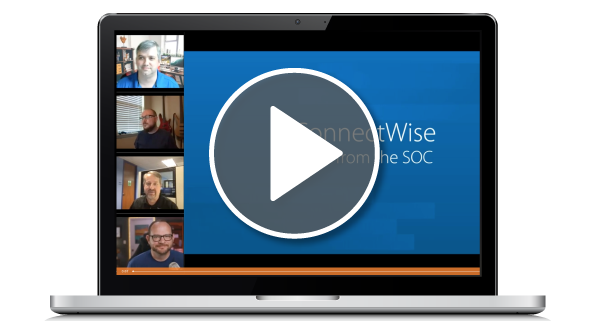 You've heard about our SOC, but what do they do?
Inside the Industry: Tales from the SOC
What really happens when a security breach occurs? Get a behind-the-scenes look at real security incidents—and discover steps you can take to avoid similar problems.
Watch the webinar >>
Check out more ConnectWise cybersecurity products
Unlock more cybersecurity resources from ConnectWise
2021 MSP Threat Report
Take a final look back at the cybersecurity events of 2020 and what they mean for 2021 with the 2021 MSP Threat Report.