ConnectWise CPQ helps guide your sales team to success by identifying a sequence of key sales events along with optimal delivery timeframes. We call this roadmap to the win your success list, and it means no critical step is left behind across your entire sales organization. These steps are time and date stamped, and documented in your CRM for a complete picture of how the sale was won.
Explore the sales workflow automation features of ConnectWise CPQ
Success list
Improve sales productivity and accountability by identifying key tasks and activities, including what's expected and when. With ConnectWise CPQ Sales Workflow Automation, you'll benefit from automated notifications, tracking, and full visibility for each team member throughout the process.
Approval workflows
There's no need to delay closing deals. With ConnectWise CPQ Sales Workflow Automation, you'll be able to get a quicker response from your clients by allowing them to review, give feedback, and approve a quote or proposal from any browser-enabled device—regardless of their location.
Multi-level approvals
The saying "always measure twice" also applies to quoting your customers. ConnectWise CPQ Sales Workflow Automation can enforce multi-level approvals to ensure you're not throwing away margin—or worse yet—a good client relationship.
eSignatures and payments
Make it simple for clients to say yes with an eSignature on contractual documents that can easily be routed to any system of record. ConnectWise CPQ Sales Workflow Automation dramatically accelerates invoicing and order fulfillment with automatic payment collection and recurring payment setup.
Minimize the manual steps between quote generation, the order process, and revenue collection with ConnectWise CPQ automation. ConnectWise CPQ re-routes tasks for greater efficiency and eliminates data re-entry. Even a one-day reduction in the sales cycle can add a considerable boost to your bottom line.
Learn how to increase revenue and shorten your sales cycle >>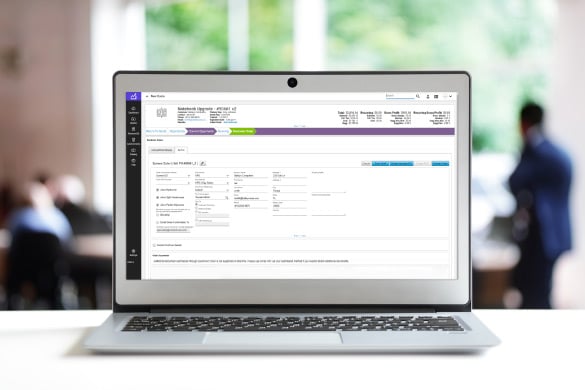 Discover the key to an efficient sales team
See how ConnectWise CPQ keeps your sales team on track close deals and grow your business.
Start your demo >>
"The integration of ConnectWise CPQ into our CRM has really paved the way for us to automate a lot of our workflows and processes. That has cleaned up a lot of the information in our system and keeps us on track with every step of the pipeline."
Jessica Hoover, Procurement Manager, My Sherpa
Explore more features of ConnectWise CPQ
Prepare and deliver professional quotes using customizable templates, populate product and price information from top distributors, and publish online via an interactive portal for client feedback.
Explore >>
ConnectWise CPQ puts product pricing and availability at your fingertips with distributor catalog feeds, including images, tunable descriptions, and detailed parametric data.
Explore >>
Gain deeper insight into your quoting data, using ConnectWise CPQ Business Intelligence to transform the way you analyze and use the company stats collected.
Explore >>