Instant response. Happier customers.
Give your customers another way to connect with you and your team via chat
Give customers the immediate response they want
Peace of mind
Reassure your customers that, no matter the issue, you're only a click away.
Support multiple clients
Help more customers with fewer resources. Amp up your utilization rates by having your techs use chat to communicate with multiple customers at once.
Keep track of chats
By having your chats recorded on an existing ticket, you can have accountability, visibility, and more accuracy.
Extend the reach of chat
Use chat for more than just your service desk. Set up queues for sales, billing, and more.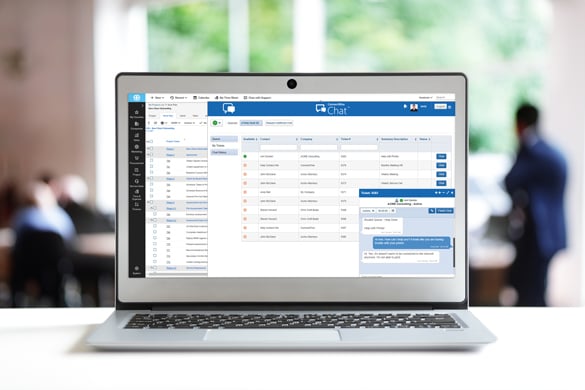 Build strong client relationships through quick response & clear communication
See more ways ConnectWise helps you streamline support in this ConnectWise PSA™ demo.
Watch the demo >>
Explore other ConnectWise PSA features
Don't let billable time slip through the cracks. Get paid for the exceptional service you're providing.
Explore >>
Discover a sophisticated, 360° view of your clients and start building the strong relationships your business relies on.
Explore >>
Manage the constant ow of client issues with stress-free efficiency.
Explore >>