ConnectWise PSA™ Account Management
One source of information to deliver the service your clients expect
By providing a clear understanding of the history and current status of each customer relationship, ConnectWise PSA™ empowers your entire TSP staff to deliver responsive service and support, helping to contribute to increased client retention and improved customer satisfaction.
Account management benefits of ConnectWise PSA
Get a 360˚ view
See every customer and contact touchpoint across your TSP—from open service tickets, planned and past purchases, projects in flight, and even financial data such as past payments, open invoices, and collection activity.
Gain full transparency
Give every member of your TSP access to customer history for a transparent view of all inbound and outbound communication with your customers. You can leverage this information to help make customer calls more relevant and timely.
Maintain service consistency
Predefined support and service processes help ensure that technical issues and follow-up activities are handled effectively and consistently every time— providing your customers with the service experience they deserve.
Know financial relationships
Always know where you stand with your customers— whether they're current, have unpaid invoices, and more. Leverage KPI's to help you forecast your pipeline and ROI by customer, or across your entire client base.
Control your margins
Lock down margins and set automatic pricing rules. Don't leave profitability to chance. Rules can be unique to each customer, service, equipment type or any other variable you define.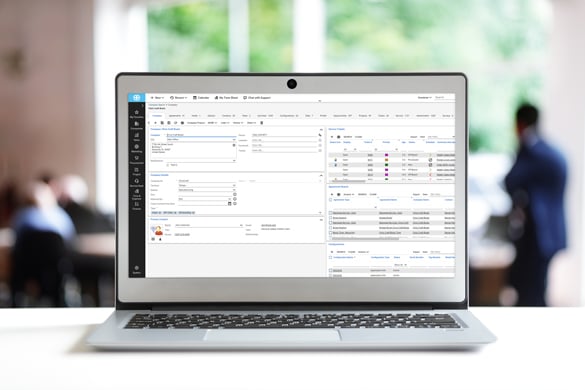 Discover unified account management
See how working from ConnectWise PSA's single pane-of-glass view of customer data can improve customer relations, boost your service delivery, and increase productivity and profitability for your TSP.
Start your demo >>
"What success looks like for our organization is client retention. What's important to us is building long-lasting relationships where we grow mutually with our clients. We look at success with our clients as, if we get invited to their Christmas party. We know we're in the circle of trust at that point. When we get those invites, life is good."
-Sean Ernst, Director of Technology, CentrexIT
Explore more features of ConnectWise PSA
Help Desk
Take advantage of clear lines of communication, an efficient ticketing process, and everything you need to provide exceptional service delivery.
Reporting
Simplify the reporting process by viewing project, service, marketing, sales, and financial data from a single pane of glass.