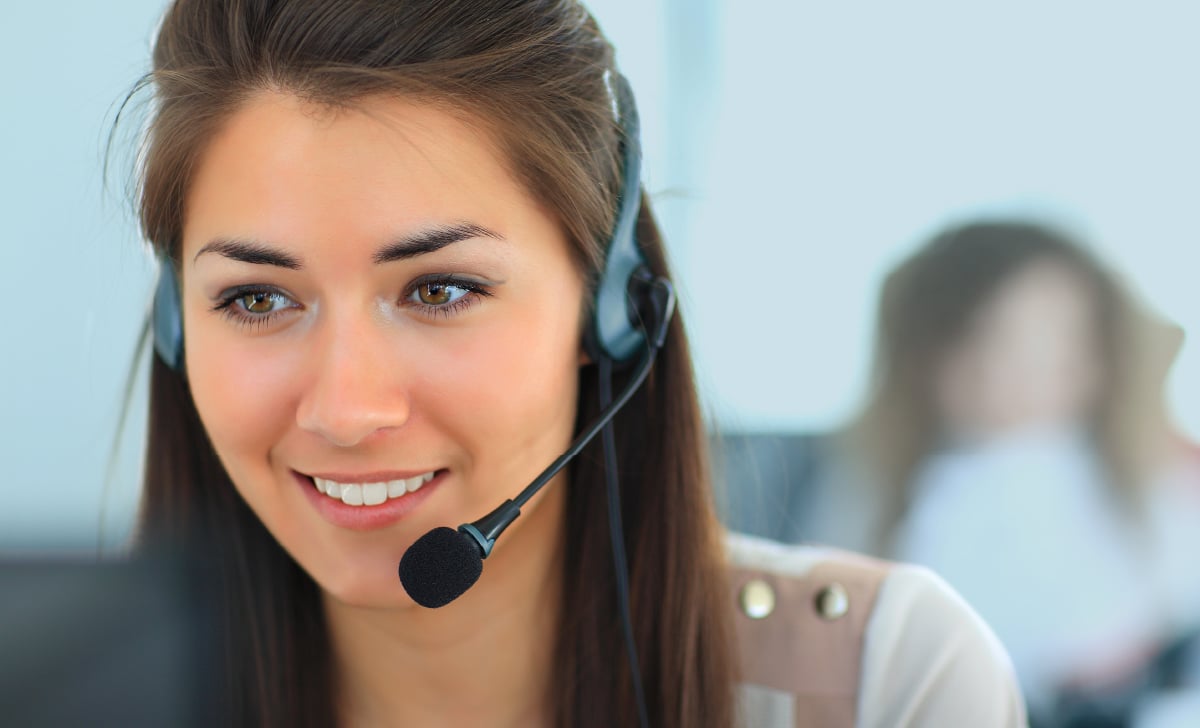 What is a network operations center (NOC)?
A network operations center, or NOC (pronounced "knock"), is a centralized location where IT technicians monitor various types of networks and support the efforts of remote monitoring and management (RMM) software. NOC teams are used frequently in the managed IT services space and help drive service delivery for many MSPs. In addition, by using an outsourced NOC specifically, your team can take advantage of industry expertise without the logistical barriers to entry.
Why go through this effort to build or outsource a NOC? NOC teams keep a watchful eye over the endpoints they monitor and manage. They also resolve issues that arise while taking preventative steps to ensure system breakdowns do not occur. NOC teams are also involved in high-level security actions and business continuity and disaster recovery (BCDR) efforts, ensuring continuous uptime for MSP clients.
A NOC is a valuable partner if you're looking to scale your BCDR planning to support your clients and grow your business. Keep reading to learn more about how NOCs work and how they can enhance your offerings.
What is a NOC?
Network operations centers are hubs or centralized locations where IT administrators proactively monitor and maintain the network infrastructure for an organization, along with detecting and resolving network issues to minimize downtime and maintain business continuity. They can be in-house and managed by your internal staff or outsourced to a third-party NOC service provider. A NOC monitors network components, including:
Routers
Switches
Servers
Firewalls
Virtual machines
Databases
Software
Larger organizations or MSPs often require the expertise and support of NOC teams to help them manage complex IT infrastructures; however, small-to-midsize companies can also benefit from NOCs if they have a staff shortage. The physical location for a NOC is typically a room of various devices and workstations where support staff can easily monitor the status of a network using specific software and tools that provide total visibility.
At first glance, some may wonder if a help desk fills this need, but the function of a help desk is very different than a NOC. A help desk is a call center designed to field front-line questions directly from end users and clients who are experiencing an issue. Conversely, a NOC interacts directly with MSPs and is not client-facing. If an end-user has a problem, they call the help desk; if the MSP is having a problem, they call the NOC.
Using a NOC brings a proactive approach to network management that can help streamline business-critical tasks and operations, from updates and software implementation to troubleshooting and disaster recovery.
NOC services can be a BCDR game changer for MSPs by providing the skills and resources an in-house IT team may not have, allowing businesses to provide better IT customer service at scale. With more efficiency, security, and monitoring, your team can focus on more important tasks related to your MSP business to help you grow.
In-house vs. outsourced NOCs
The two main categories of NOC are in-house and outsourced options, but outsourced NOC services are far more accessible to most MSPs. The fixed labor and infrastructure costs of building an in-house network operations center are typically too much to handle while maintaining a profitable, growing business. Even if your in-house NOC team was fully staffed, it would be difficult to meet the highs and lows of demand while preparing for everyday maintenance tasks.
Partnering with a third-party NOC can help you manage and scale your MSP business by doing most of the technical work necessary to provide first-class IT services to your clients. There are many benefits to outsourcing your network operations center, like:
Helping to streamline your team's workflow by resolving issues more quickly and managing more client endpoints.
Complementing your existing MSP offerings with innovative tools and resources so you can provide your clients with the best service possible.
Allowing your in-house team to focus on higher-priority issues and client services.
Facilitating sustainable growth for your MSP business without having to risk hiring and training an entire in-house staff.
Minimizing downtime by addressing security or maintenance issues quickly.
Reducing skill and labor gaps related to understaffing or lack of training.
Integrating an outsourced NOC with your current remote monitoring and management (RMM) tools can help you provide high-qualityservice without spending more on internal development.
Some potential challenges with an outsourced NOC include:
Finding the right NOC support to meet your clients' needs, like having the right tools and resources.
Misalignment with the SLAs you have set up with your clients. You need to make sure the NOC can meet the same requirements in your SLAs so there aren't issues created between you and your clients.
Lack of visibility into the performance of your NOC partner. A good NOC should be transparent about their performance and provide data, insights, and solutions when performance isn't up to par.
Security concerns related to data being in systems that aren't controlled by you or your clients. This can be easily avoided, though, as long as the NOC provides you with full visibility into the tools and mechanisms they use to manage security concerns.
As a note, these challenges can be easily avoided with the right NOC partner and a strong plan. Outsourcing NOC is not only a net benefit, but in many cases, is the only realistic option for MSPs to take advantage of a NOC.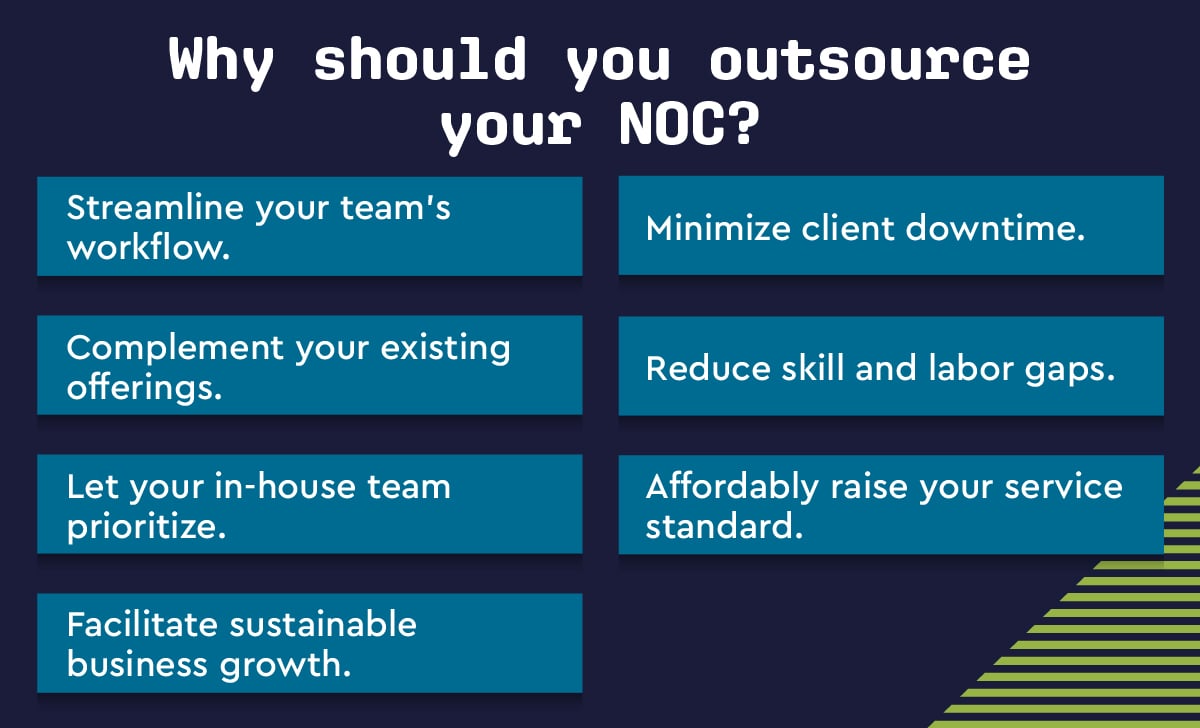 Importance of outsourced NOC support for BCDR
Network operations centers play a critical role in ensuring your clients' networks aren't interrupted, particularly when there is an incident like a storm, accidental data deletion, or a cyberattack. NOC services promote better business continuity and operational success.
A NOC team can help manage all tasks related to infrastructure management and provide the proper level of security and staffing so nothing slips through the cracks. NOC teams also help protect your employees and your clients, safeguard data, and assess financial and operational effects after a major event.
If you are managing an in-house IT team, it can be overwhelming to try and tackle all the potential issues related to security and business continuity. If mistakes are made, or there isn't a proper BCDR plan in place, your IT infrastructure could be at risk. Potential risks of not having a reliable network operations center include:
Longer downtime. When your in-house IT team is overwhelmed with support tickets, they won't be able to proactively monitor for issues or respond to outages as quickly. This could leave your clients vulnerable and facing more business downtime than necessary, costing you and your clients valuable time and money.
More vulnerable to security risks. NOCs often have access to more tools and platforms that work efficiently to process information from multiple sources in one place so that security concerns are addressed quickly. Without these tools at your disposal, your IT team may be faced with manually collecting information or trying to gather it from several different places, which can be time-consuming and leave you more vulnerable to cybersecurity risks. Without oversight, parts of IT infrastructure, like firewalls, may not be properly managed.
Unnecessary mistakes. If your IT team is overwhelmed or inexperienced, it can lead to mistakes that could affect your clients when a disaster happens. For example, a less experienced team may not know how to use certain tools or protocols in place for disaster recovery. When disaster strikes, this can slow down recovery or lead to mistakes that take even more time to remedy.
Loss of credibility. This can include a loss of credibility for your business and your clients. If there is extended downtime or data loss, this can affect end users who may not want to do business with your clients after a major event. It may also affect your bottom line as clients may not trust your business to manage their IT infrastructure.
As we mentioned before, though, building an in-house NOC team can prove logistically difficult for many MSPs. Consider outsourcing to make sure that you avoid some of the consequences above, no matter what your size or budget.
Functions of a NOC for MSPs
The NOC engineers and technicians you work with make decisions and adjustments to ensure optimal network performance and organizational productivity. When MSPs need to provide NOC support to clients, the NOC team creates alerts (or "tickets") that identify and categorize the issue based on severity, alert type, and other criteria. Depending on the relationship between the NOC and the MSP, technical teams can work together to resolve the problem and identify its root cause to prevent future issues.
Tasks that a network operations center technician may be responsible for include:
Installing software and applications, troubleshooting, and making updates
Managing email services
Managing data backup/replication, storage, and recovery
Assessing network activity
Enforcing policies and SLAs
Scanning for viruses and remediation
Whitelisting
Threat analysis
Communication/coordination planning
Comprehensive reporting on performance and suggestions for improvements
Managing video and voice traffic
Testing/validation
NOC technicians conduct continuous checks for suspicious activities on your clients' networks, make technical adjustments, and can use their extensive resources to respond to emergency situations.
Solving the skills gap and scaling with outsourced NOCs
One of the struggles for both in-house NOCs and IT teams in general is a shortage of skilled, qualified, and experienced technicians capable of handling certain levels of IT support. Leveraging an outsourced NOC can be more efficient and cost-effective than hiring technicians to scale.
You may find it extremely difficult to staff your business with enough technicians who have the right skill sets to grow your business profitably.
However, an outsourced NOC can help eliminate the skills gap by offering all the resources you need in your technical staff for a flat fee each month. As your MSP business grows, more resources can be added, protecting margins while positioning them to deliver results around the clock.
NOC vs. SOC
While they may look and sound similar, there are significant differences in the objectives of a network operations center and a security operations center (SOC).
Both a NOC and a SOC work with your team and never with the end user. However, NOC will focus on the remote monitoring and maintenance (RMM) of a client's IT environment, while a SOC is more security-focused. SOCs monitor for vulnerabilities, attack vectors, and emerging threats on a client network and are prepared to detect anomalies and mitigate cyberattacks as they arise.
Most SOCs use a security information and event management (SIEM) process that aggregates data streams from various security-focused systems. SOCs leverage information from:
network discovery and vulnerability assessment systems
governance, risk, and compliance (GRC) system
penetration testing tools
intrusion detection and prevention systems
log management
behavior analysis
These data streams and more are collected and parsed by SOC technicians who are trained cybersecurity experts.
Network operation centers and SOCs perform many services—all of them mission-critical to your work—but there is little overlap in their missions or objectives. If an MSP needs to focus more on security for a client, using a SOC may offer advantages like more thorough monitoring and quick identification and response to threats, which could be especially important for scaling your BCDR business.
For example, using a SOC can help reduce dwell time, or the amount of time an attacker is in a network. Without the right tools and monitoring, an attacker could be lingering in a network for months. With the support of a SOC, an attacker may be found in a matter of minutes, minimizing the potential for network damage and quickly implementing recovery protocol.
While SOCs are different, combining SOC services with NOC services can help you provide the utmost in security along with the comprehensive monitoring, management, and recovery provided by a NOC.
A silent partnership
When a NOC is operating at peak efficiency with your IT team, your clients won't even be aware of the NOC. Network operations center technicians coordinate directly with you, the MSP, rather than with your clients. This allows you to create a seamless user experience where you can deliver world-class support to your clients, like disaster recovery with access to the boundless resources that NOCs provide.
NOCs and the ConnectWise platform
Partnering with a third-party for NOC services can help increase your capacity to quickly service clients, protecting and recovering their data without the expenses and resources of an in-house team. With ConnectWise BCDR, our NOC manages the day-to-day BDR operations for you, from routine management to backup monitoring and verification.
Watch an on-demand demo of ConnectWise BCDR to learn how powerful automation backed by a 24/7/365 expert NOC services can help get your clients back to work in minutes—not days—when disaster strikes.
FAQs
A network operations center is a centralized location where a team of skilled IT technicians monitor, manage, and maintain a client's computer networks and telecommunications infrastructure. It serves as a command center for network monitoring, troubleshooting, and ensuring the overall performance and availability of the network.
Building an in-house NOC requires careful planning, proper infrastructure, and skilled personnel. Before doing so, you want to do a careful analysis of your client's needs, business goals, network requirements, and budget to ensure you have the right tools, staff, and space to create your NOC.
The purpose of a NOC is to monitor, manage, and maintain the computer networks and telecommunications infrastructure of an organization.
A NOC focuses on monitoring and maintaining networks, while a SOC focuses on monitoring, detecting, and investigating security threats and incidents targeting an organization's networks.