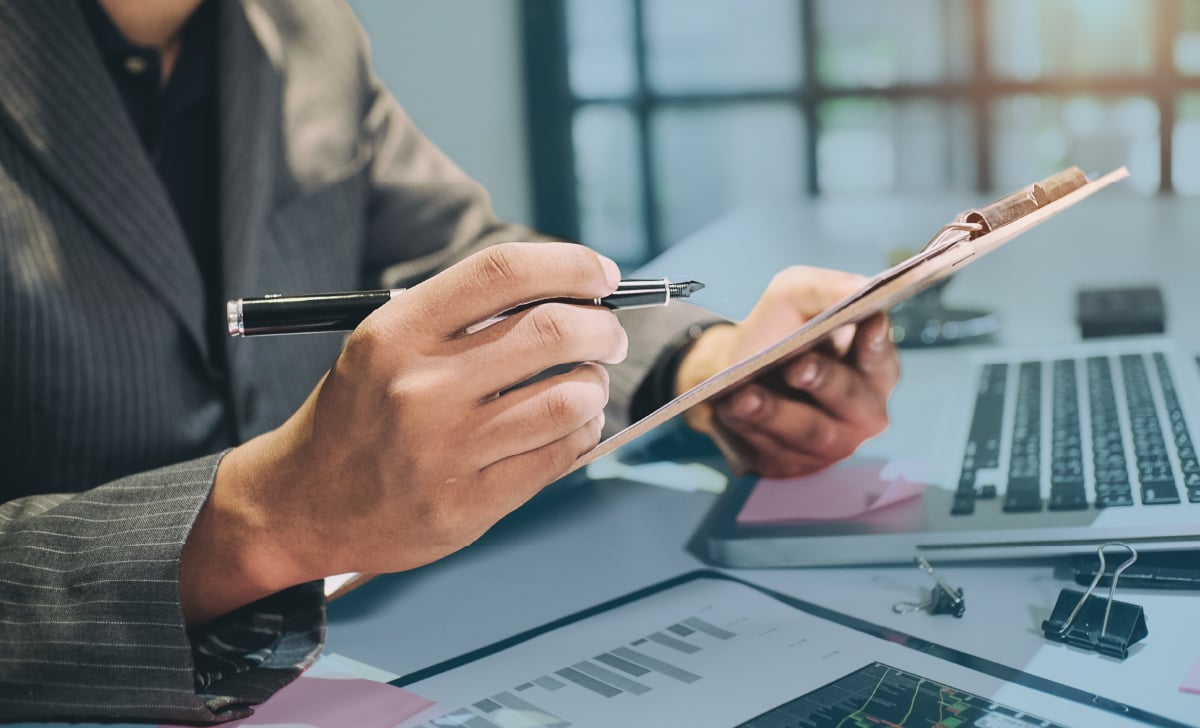 7-point disaster recovery plan checklist
When it comes to the world of IT, failing to plan is planning to fail. In some cases, there are obvious threats. Data breaches increased by 37% from 2020 to Q3 2022, and this number is expected to continue trending upward into 2023. Business downtime can also affect you and your clients as you work to recover from a disaster–the more quickly you can recover, the less business is lost.
Data breaches are not the only issues that can impact your clients' data and operations. Equipment failures, power outages, and natural disasters are all threats you need to be ready for. To effectively manage and mitigate these threats, it's essential to create a disaster recovery plan checklist that will guide you and your clients.
Disaster recovery focuses on how you and your clients recover from a major event like a natural disaster or cyberattack. A disaster recovery plan helps identify the order in which systems are restored to enture the most critical business functions are available first. This is one of the most important elements of an organization's overall unified monitoring and management (UMM) strategy.
This guide will describe the steps to create a comprehensive disaster recovery plan for your MSP business and your clients. A disaster recovery plan checklist will include several elements to help you prepare for a disaster and avoid costly downtime for both you and your clients.
Steps of a disaster recovery plan
Creating a comprehensive disaster recovery plan is essential in today's digital world where cyberthreats are constantly evolving and other risk factors are always present. Disaster recovery plans will differ depending on your client's business needs. With that said, the following steps are a good part of your 7-point disaster recovery checklist:
1. Establish downtime impact parameters
In the previous chapter of this guide, we've discussed the financial and reputational consequences of downtime for your clients. With that said, it's important to begin your checklist planning by establishing specifically what your clients need to be prepared for. This is accomplished through a business impact analysis.
A business impact analysis helps MSPs evaluate the potential financial, operational, and legal effects of a disaster on their client's organization. This information can be used to prioritize resources for recovery plans and strategies and help you form an accurate disaster recovery plan checklist.
Two other important metrics to establish early are recovery time objective (RTO) and recovery point objective (RPO). RTO is the acceptable amount of time a business has to restore operations to an acceptable level after a downtime event, while RPO is the maximum acceptable data loss after a disaster event. These metrics will help determine the scale and nature of your client's disaster recovery plan.
Knowing where your client's business critical data is located, including shared drives, SaaS applications, email, local or hosted servers, and messaging tools, for example, can impact RTO and RPO and help you proactively minimize downtime.
2. Identify critical operations
Once you've established the baseline impact parameters and metrics, it's time to start prioritizing what is most important to your clients. This step will include identifying those processes, applications, and data that absolutely must be operational for your client's business to remain functional.
For example, if your client runs an e-commerce website, they may want to identify processes such as customer orders and payment processing as critical operations that must be maintained in the event of a disaster.
3. Plan initiation
The initiation phase of disaster recovery planning helps you understand your client's IT infrastructure and business needs. This will define and revise the scope of your engagement with the client, set expectations, and address issues that could affect intended outcomes. During initiation, you should define key team members and their responsibilities as part of the disaster recovery plan, so that all processes are clear before a disaster occurs.
Another key part of the initiation stage is reviewing the client's infrastructure. IT infrastructure includes both the physical and virtual components of an organization's information technology systems and the people and processes that manage and support the business's overall operations. Reviewing the infrastructure gives you a better understanding of how to ensure all components are secure. Remote monitoring and management (RMM) solutions also provide constant monitoring for said infrastructure.
4. Risk assessment
Following up on your infrastructure review should be a risk assessment or risk identification. This will help you identify potential threats and vulnerabilities in your client's IT infrastructure. It is important to understand the potential risks that could damage or disrupt business operations so that you can create an IT disaster recovery plan checklist that aligns with your client's needs and biggest areas of risk.
5. Response
At this point, your team needs to outline the specific response to a disaster, including what communication channels you'll use to inform necessary stakeholders and specific protocols for your MSP team and the client's team. It may be useful to create a plan that clearly outlines how each stakeholder will respond when there's an emergency. Here are some specific aspects that your response step should cover:
Backup/recovery strategies:

Knowing how data is stored and backed up, as well as where it is, is critical for restoring it after a disaster occurs. To ensure data security, organizations should

implement

backup strategies, such as the

3-2-1 backup strategy

, that involve storing redundant copies of data in multiple physical locations or cloud storage.

Consider investing in

co-managed backup

if you know your team will need support managing your BCDR solutions.

Plan design:

The plan design should address specific threats that your client's organization could be vulnerable to and how those threats could affect applications, networks, devices, and data. It should also include a communication plan that ensures all stakeholders are aware of the status of the disaster recovery process.

Compliance:

Depending on your

client's

industry, especially

those who must comply with extensive

regulation

s

like

General Data Protection Regulation (GDPR) or Health Insurance Portability and Accountability

Act (HIPAA).

You

may

need

to create

a

disaster recovery audit checklist that ensures your plan meets

certain

regulations

.
6. Recovery
In addition to defined roles and responsibilities for team members, be sure to document step-by-step procedures for recovering critical systems and services. Ensure that the recovery team is trained in executing the recovery procedures effectively and efficiently. It's also important to make sure that when building out these plans that you determine where relevant data storage/backup is going to be located and how it will be accessed.
7. Plan evaluations and testing
Continue to revise the disaster recovery plan checklist after it's made, particularly after a disaster occurs. This gives you the opportunity to evaluate and test the plan's effectiveness and where it can be improved for next time. This may include specifying the mode of communication, a point of contact, and clear expectations about response times. After evaluating your response and adjusting, you'll want to test and make sure the disaster recovery plan is effective.
How often you test your disaster recovery plan will depend on your client's business and specific needs; however, the more regularly you test, the more confidence you and your clients will have about the security of their IT infrastructure.
With proper planning and resources, you can help your clients create a successful disaster recovery plan to protect their organizations from cyberthreats and other events. For even more detail on how to do this, check out our eBook, 3 Reasons to Rethink Your Backup and Disaster Recovery Strategy.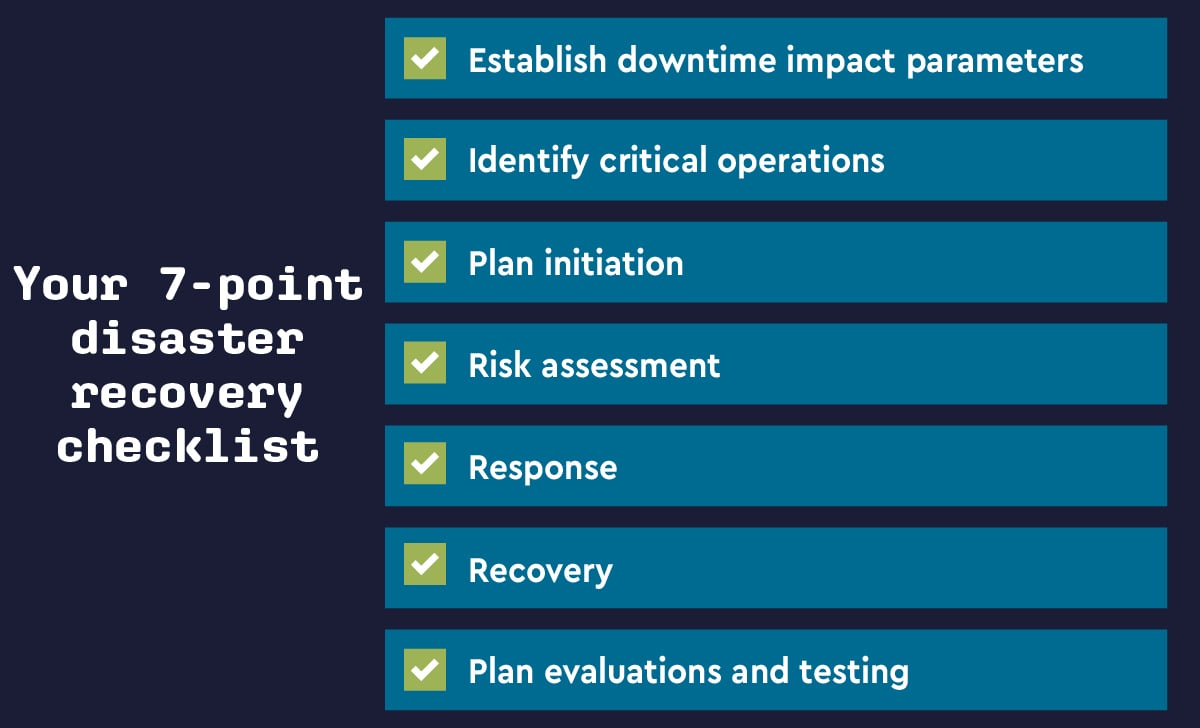 Specialized disaster recovery plans
Before you complete your disaster recovery plan checklist, be sure to consider the following unique situations, which may impact your client's recovery plan.
Disaster recovery plans and remote team considerations for MSPs
The growth of remote work environments means more stakeholders and components to protect, which creates a greater challenge for MSPs. With employees dispersed across different parts of the country or the world, one subset of the remote workforce could experience a major disaster while the rest do not. As such, there are unique components to consider for a team of remote workers.
Look for unique potential risks for the remote environment during your risk assessment, like a greater variety of endpoints or company devices on public networks.

Identifying critical systems and data both for in-office and remote operations and classifying them based on importance and sensitivity level.

Making sure you implement data backup solutions for all remote workforce devices. Cloud-based backup solutions may be a better fit for clients with remote teams.

Establishing remote access solutions so client employees can connect to critical systems and data during the recovery process.

Build out a communication plan so remote client teams can still be able to communicate with each other effectively during a disaster period.



This should also include establishing emergency contacts, including important stakeholders, vendors, as well as a point of contact from your team.
Beyond these, some of the standard points we covered before, like regular testing and setting your RPO/RTO, still apply. It's just important to take the unique environment of remote workplaces into account when building your checklist out.
BCDR plans and in-house team considerations
Even if a client's team is on-site, it's still important to make a BCDR plan. Your MSP business can help them do that more effectively by understanding:
Team members and their roles

Devices in the network

Critical systems, data, and operations

Applications

Networks

Current backup and recovery protocol

Primary points of contact within your client's organization
One of the challenges that an on-site team may encounter is proper data backup and storage, especially if your clients rely on premise-based storage. Your MSP team can help establish a backup plan that diversifies storage to include alternate storage locations when needed, like a third-party data center and/or cloud-based storage.
Communication can be a challenge no matter how a client's team is set up, so it's crucial to clearly define recovery team roles for both your client's organization and your MSP team. Getting everyone to know how the plan works and the solutions you will use will help mitigate the cost of not having a DR plan.
Disaster recovery mistakes MSPs should avoid
Any MSP can make errors, but newer MSPs may be particularly vulnerable if they lack the processes, trained staff, and experience to provide the comprehensive service clients need. The stakes are high, though. Failing to provide effective service in a disaster scenario could lose you a client and critically damage your reputation.
Here are a few mistakes to look out for when creating a disaster recovery plan:
Having a limited testing scope:

Testing not only ensures security, but it also ensures that data can be pulled when needed, like if a disaster happens or there is a security breach. Failing to test frequently or in a variety of scenarios means your plan may fail when it's needed.

Lack of communication:

It's important to make sure that clients are involved throughout disaster recovery plan creation. Their involvement can help clarify where you should prioritize your efforts, set up points of contact and procedures during a disaster event, and bring in viewpoints from multiple client departments.

Failure to adapt and evolve the plan:

A static disaster recovery plan that isn't regularly reviewed and updated may become obsolete over time. Technology, business needs, and potential threats can change, so MSPs should proactively review and revise the plan to ensure it remains relevant and effective.

Failure to prioritize critical systems and data

: Not properly identifying and prioritizing critical systems, applications, and data can lead to a lack of focus in the recovery efforts. MSPs should work with the client to determine the most critical elements that need immediate recovery to minimize downtime and ensure business continuity.

Lack of documentation and updates

: Failing to maintain accurate and up-to-date documentation of the disaster recovery plan can hinder its effectiveness. Changes in technology, infrastructure, or business processes should be reflected in the plan. Documentation should be easily accessible to relevant stakeholders and include emergency contacts, procedures, and responsibilities.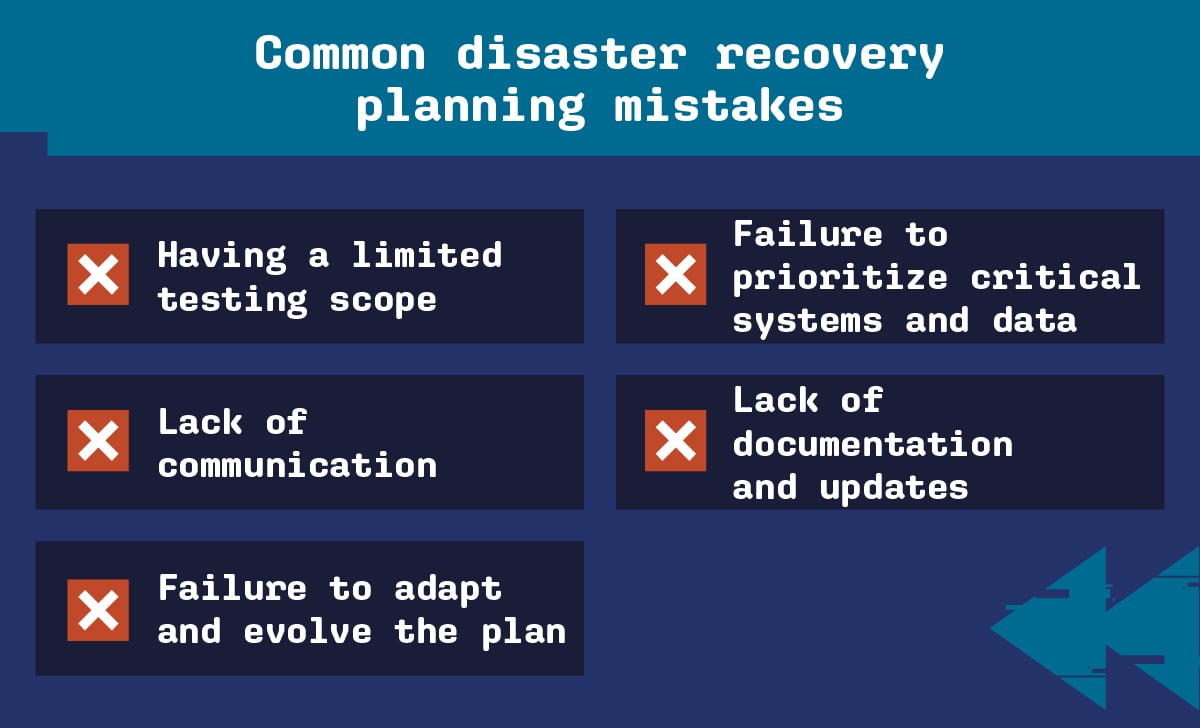 Supporting your business through disaster recovery planning
Remember that you are considered the expert on all things related to backup and recovery and managing your clients' critical infrastructure. You want to grow your MSP business but also want to do it in a sustainable way. Follow these quick tips to help you maximize success:
Focus on time and cost savings:

Be sure to keep this philosophy in the back of your head when building out any sort of backup and recovery plan. Saving your clients time and money will make it easier for them to grow and scale, which, in turn, means more business for you.

Streamline options for client

s: Know which tools and service offerings are the best for your clients—and why—so you can offer exactly what they need. Having too many options may result in you losing money supporting offerings that aren't profitable or valuable for your target audience.

Implement proactive monitoring:

While disaster recovery planning may sound reactive in nature, the truth is that a good MSP is always thinking proactively. Installing proactive monitoring solutions helps you identify potential issues in your plans and with your clients before they impact regular operations.

Think about where you can implement automation:

Automation is an invaluable saver for your teams. By automating some of the more basic, tedious tasks that come with disaster recovery, your professionals can focus on tasks that will help support your clients and grow your business.
Secure your data, secure your future
A well-developed disaster recovery plan can help your team mitigate the effects of disasters for your clients, which can reduce downtime and improve ROI. ConnectWise offers a comprehensive solution to help you back up and restore your client's data quickly and easily with several benefits like advanced data verification, backup monitoring, and continuous data protection.
Start your free BCDR demo today to see how ConnectWise can help you scale your business while protecting your clients' most critical assets.
FAQs
Organizations trying to create a disaster recovery plan checklist may find it challenging to:
Make planning a priority because of time and resource constraints.

Ensure the plan is comprehensive enough to protect their

client's

business.

Create the plan on their own because of the overwhelming amount of data and processes to manage.
There is no set standard for how often a disaster recovery plan should be reviewed or updated. However, to ensure preparedness, it's wise to do an annual review to account for any changes in your client's business, like staffing, a new location, IT infrastructure, or updated regulatory guidelines. For regulatory concerns, a disaster recovery audit checklist can help you ensure compliance when planning for disaster recovery.
Hot, warm, and cold sites represent different backup options. Hot sites contain copies of all data centers, including software and hardware, and are ready to go when needed, particularly for mission-critical operations. Cold sites don't have server hardware or software and are reserved for when a disaster backup needs to be done. They are typically less expensive than running a hot site. A warm site offers basic equipment; however, you still need to load your data. ConnectWise Co-Managed backup provides options for hot, warm, and cold sites with Disaster Recovery as a Service (DRaaS) and cloud virtualization.