Becoming a certified cybersecurity expert
Turn cybersecurity into a sustainable growth strategy for your MSP
Take your MSP cybersecurity to expert-level status
While there's no finish line on your security journey, you reach a point when security is fully ingrained in your operations. You're a security-first MSP, and you view your services through a lens of security. Investments are paying off with trained, dedicated security champions across your organization. You're offering comprehensive security solutions, pricing them right, and receiving fair compensation for shouldering most of the risk, but you still communicate that security is a shared responsibility. You take security seriously and you will walk away from a client who could cost more than they pay.
How to keep cybersecurity front and center
As your MSP embraces cybersecurity, assess yourself and see how you're evolving your practices and giving back to your peers
Are you managing security—internally and externally—to industry best practices?
How are you passing along your knowledge and giving back to the industry?
Are you creating a security-first mindset and culture for your clients?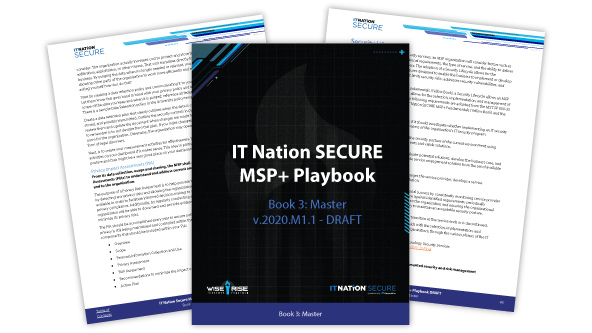 IT Nation Secure MSP+ Master Playbook
Dig into the third playbook in our MSP+ Cybersecurity series on how to drive further maturity and expertise in your MSP business.
Get my playbook >>