What is the difference between an MSP and an MSSP?
The key difference between a managed service provider (MSP) and a managed security service provider (MSSP) is easy to spot: It's the "security" factor that sets them apart.
While MSPs are increasingly leveling up their capabilities across different areas, an MSSP provides a dedicated and elevated level of cybersecurity expertise and service with 24/7 network monitoring and proactive security tactics.
Understanding the difference between an MSP vs. MSSP can help your customers select the right resources for their own business. It's also an integral part of assisting your teams to determine the level of cybersecurity expertise they can offer before recommending an MSSP's services. While MSPs possess general cybersecurity knowledge, the specialized services and knowledge of an MSSP may be a better fit for certain clients and use cases.
What is a managed security service provider (MSSP)?
An MSSP is a business that supplies specialized supplemental security services, software, and expertise to other organizations. MSSPs provide top-tier cybersecurity skills to organizations that prefer to look externally for their protection.
Opting to work with an MSSP is often either a complement to or a replacement for an in-house security operations center (SOC). Companies might look to an MSSP because they can't staff their in-house SOC with enough cyber expertise. Additionally, organizations in highly regulated industries like banking and healthcare can rely on the MSSP's superior expertise to ensure their network is secure and compliant.
Commonly, the MSSP's services will include proactive approaches like:
A managed

firewall

Virtual private network (VPN) setup and management

Managed Detection and Response

setup and management

Event monitoring, alerting and reporting

Intrusion detection/prevention capabilities

Incident response and possibly some forensics capability

Helping

customers identify and react to a cybersecurity incident or compromise
Based on this list, it may seem like there is a lot of overlap between the responsibilities of an MSSP vs. an MSP. What makes an MSSP unique, however, is its concentration on advanced cybersecurity expertise.
Some of these more MSSP-specific tasks include:
Compliance consulting and assessments

Suggesting incident remediation steps and helping clients restore systems

Performing vulnerability assessments and penetration testing

Providing companies access to the latest in cybersecurity expertise
When would an MSSP step in?
It's true that modern MSPs are improving their security offerings rapidly, but they would only harm their business or put their customers at risk by trying to take on more than they can truly handle. When it comes to third-party providers, full-scale cybersecurity should be left to the MSSP.
For example, an MSSP may be the better choice in important industries like finance and healthcare where added complexity, higher stakes, and constant regulatory changes make additional cyber expertise and focus essential. MSSP software can provide an additional layer of defense and help deliver unmatched cybersecurity protection at scale.
The key differences between these third-party service providers are: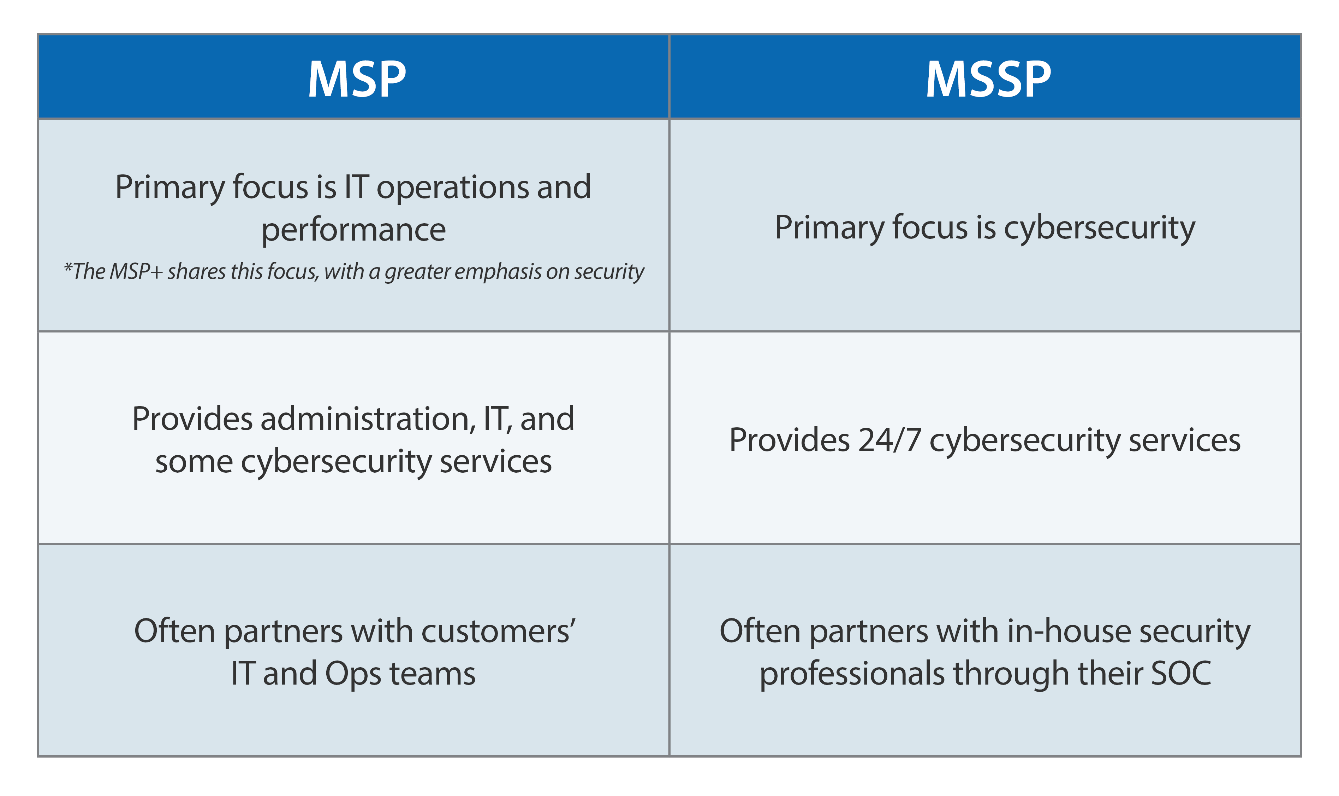 Now that we've covered the basics, let's take a deeper dive into these differences.
MSP vs MSSP: what makes them different?
In comparing MSPs vs. MSSPs, we see that although they're both third-party service providers, they fill very different roles. While many MSPs are growing their cybersecurity capabilities, their core focus remains on supporting their customers' general IT needs. You could say that the MSP's bread and butter is IT management, and the MSSP's is information security.
With security front-and-center of customers' minds, many MSPs are including cybersecurity services like:
firewalls

endpoint protection

email filtering

software updates and patching

risk assessments

end user education and training
There's no doubt that MSP software and tactics can enhance a customer's security posture, but they're far from complete protection.
The MSSP needs to provide clients with 24/7 protection and availability to combat security incidents through speedy detection and response. Most MSPs struggle with this simply because of limited resources and experience. The MSSP can offer this steadfast commitment to security because of their SOC staff and expertise, while the MSP's focus on administration and performance requires that they are structured to include a network operations center (NOC). These two resources complement one another to provide a comprehensive approach for minimizing the risk impact on an organization, who traditionally would only opt for managed IT services.
Benefits of MSPs vs. MSSPs
It might be helpful to look at each position's benefits to further differentiate between the two. MSPs provide their clients with:
Increased efficiency

– clients can focus on more important tasks by outsourcing their IT needs to an MSP.

Scalability

– Clients can start using an MSP and add services as necessary.

Lower costs

– Hiring an MSP gives your clients access to IT experts for a fraction of the cost. True, they'll be paying your service fees, but that's a fraction of the cost of hiring, training and maintaining an entire internal IT team.
MSSPs can also provide benefits that help transform their clients' businesses. Most of their advantages revolve around cybersecurity and include:
High-level cybersecurity insight

– Access to security information and event management (SIEM) and system logs gives clients deeper insight into their cybersecurity posture.

Rapid incident response

– Since an MSSP's SOC works 24/7, it can quickly identify and respond to even the most advanced cybersecurity threats. They are skilled at handling various threats on an enterprise level and can stop them before they cause significant damage.

Proper risk and compliance management

– MSSPs can offer their expertise and provide clients with certification on compliance challenges. The entities and documents that govern compliance are constantly changing. Leveraging an MSSP with thousands of hours of experience in this field can help your clients avoid damaged breaches and costly fines.

Automation of vulnerability management

– An MSSP can provide continuous internal and external scans of your client's entire network. They can examine IT assets, software applications, databases, and more. Then, their team of certified professionals can deploy automated scans that provide actionable steps to improve your cybersecurity and reduce false positives.
There's also a middle ground to consider, where an organization known as an MSP+ provides the typical MSP services but places a greater emphasis on cybersecurity. An MSP+ can offer more advanced security solutions than an MSP alone but doesn't always have the 24/7 access and complete expertise of an MSSP.
It's true that some organizations that began as MSPs have been able to transition to MSSPs or level up to an MSP+. But it requires more than new software or providing an a la carte security service. They would need to restructure themselves to provide full-scale cybersecurity services. While this may sound like an easy feat, keep in mind this may require a complete change in your business profile and may result in shifting existing clients over to a more traditional MSP.
How MSPs and MSSPs work together
Comparing MSPs vs. MSSPs can be misleading because organizations shouldn't necessarily choose one over the other. Often, these providers work in concert with each other.
Organizations can determine where to begin by evaluating their current provider, considering the scope of their cybersecurity needs, and prioritizing their budget accordingly. Regulatory or Compliance requirements may also be a determining factor for where to start as well.
MSSPs were essentially born out of the increased need for advanced cybersecurity tactics. When traditional MSPs realized they couldn't meet their customer's demand for 24/7 security access and protection, the MSSP was created. Several organizations still operate with both MSP and MSSP offerings, allowing customers to reap the benefits of both services.
Consider the time, energy, and resources an MSP spends on routine IT tasks. Balancing general maintenance and support tickets with proactive cybersecurity management may spread teams too thin—or worse—leave clients with inadequate service or expertise should a cyberthreat arise.
This is where an MSSP can be beneficial to an organization's comprehensive IT strategy, complementing the services an MSP provides. Some MSPs may choose to build an MSSP within their MSP, while others may partner with an existing MSSP or scale via merger or acquisition. No matter the approach, recognizing the need for both functions will ensure your client receives well-rounded IT and security protection.
Building your cybersecurity practice
Just because MSSPs provide security-centric support doesn't mean MSPs can't effectively service at least some of their clients' cybersecurity needs. Continuous education, certification, and training can give MSPs the additional experience and expertise needed to expand their cybersecurity practice.
Organizations interested in increasing their security offerings can start by enhancing the security expertise of existing MSP employees through dedicated training or certifications. Some areas to focus on while building the foundation of your MSP's security offerings include industry frameworks and standards and risk assessment best practices.
MSPs with more advanced security expertise can enhance their cybersecurity knowledge by focusing on security operations (SecOps) and cybersecurity sales frameworks. These steps may not provide customers with full-scale cybersecurity programs, but they will enhance the value any MSP can provide their customers.
Whether you are an MSP or an MSSP, ConnectWise's suite of IT and security solutions are designed to help your business scale while providing your clients the peace of mind they deserve. Sign up for a live demo of our cybersecurity suite today or visit our cybersecurity center for more helpful resources.
About the Author: Wayne R. Selk is VP, Cybersecurity Programs and the Executive Director for the CompTIA ISAO. He is co-author-contributor and past facilitator for the ConnectWise MSP+ Framework, Playbooks and Certify Fundamentals and Advanced Courses. Wayne uses his more than 25 years of experience and leadership in planning, managing, and delivering information security deployments to help CompTIA members secure their and their customer's sensitive/business critical data. He joined CompTIA in March 2022 and ConnectWise in 2018 when the company acquired Sienna Group, a security solutions provider. During his five years at Sienna Group, he served as a principal consultant who focused on data classification, FISMA compliance and managed security services. Wayne held the Certified Information Systems Security Professional (CISSP) and holds the Certified Data Protection Solutions Engineer (CDPSE). He currently resides in the Tampa Bay Area.