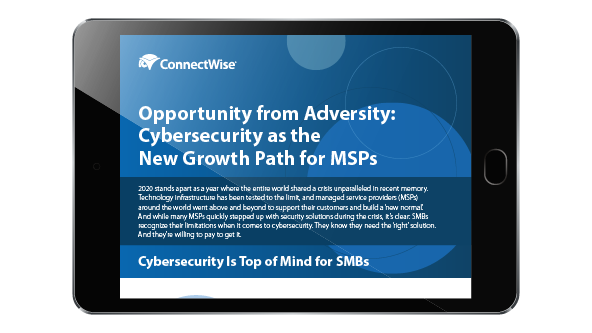 SMB cybersecurity is the new growth path for MSPs
Discover what your clients want when it comes to security
Cybersecurity stands to be the next big growth opportunity as managed services providers move to MSP+. But a key component will be managing your customers' expectations. Check out the key information that emerged from our recent study, Creating Opportunity From Adversity: The State of SMB Cybersecurity in 2020. Our infographic highlights what your clients are seeking when it comes to security like:
Perceived risk and investment planning
What's driving adoption of outsourced services
What SMBs are seeking from cybersecurity support
Get my infographic
Ready for more?
Check out these resources to jumpstart your advanced cybersecurity offering.
Get the kit to boost your security business
If 9 in 10 SMBs are willing to switch MSPs for the right cybersecurity solution, does your offering make the cut? Check out our Building Your Advanced Security Offering Kit—we've got the resources you need to ensure your solutions make the grade.
Get my kit >>
Take a closer look
With small businesses curtailing non-critical spending, it's more critical than ever to ensure you're offering the right protection—at the right price. For only $600 a month, our ConnectWise MSP+ Foundation Pack helps you protect, detect, and respond to emerging threats.
Explore the MSP+ Foundation Pack >>
An advanced security solution is more important now than ever. Are you confident in your security offering? See how the ConnectWise MSP+ Foundation Pack helps you start implementing advanced cybersecurity today and sets your clients up to scale for the future.
Watch the demo >>