eBook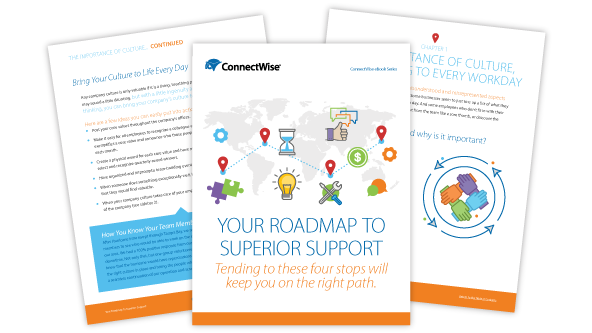 Your Roadmap to Superior Support
Your Roadmap to Superior Support
Work more efficiently and increase client satisfaction with these four helpful tips
In a competitive market with similar service offerings and pricing, the best way for an IT service provider to stand out from the competition is to provide clients with the best support possible. Your relationships strengthen and become unbreakable by consistently providing the care your clients need. But how do you go from average response times and communication to superior support?
We've created a roadmap designed with four stops, explained in the following chapters, that will make your transition to providing superior support an easy ride:
Understand the importance of culture.
Improve efficiency & customer experience simultaneously.
Utilize the tools your support team needs to succeed.
Scale your support teams at the rate of business growth.
Discover the path to enhanced support