eBook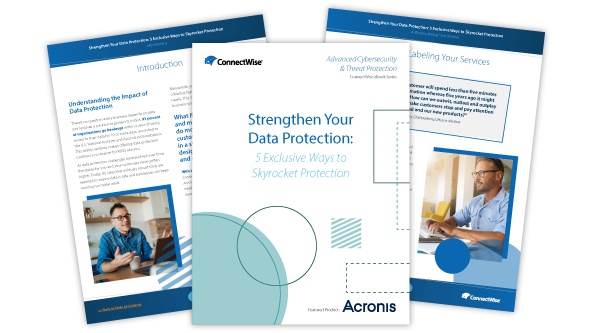 Strengthen Your Data Protection: 5 Exclusive Ways to Skyrocket Protection
Reach new heights of data protection
According to the US National Archives and Records Administration, 93% of organizations go out of business within a year of losing access to data for 10 or more days. Don't let your clients be part of a statistic.
Data protection is evolving. There's more to it than just backing up data. You need a strategy to keep data secure and easily accessible when your client needs it. With our eBook, Strengthen Your Data Protection: 5 Exclusive Ways to Skyrocket Protection, you'll discover how the right plan and solutions can level up your data protection.
Backup - A critical piece of your business continuity and data loss prevention plan.
Disaster recovery - When the unthinkable happens, get your business up and running—fast!
File sync & share - Confidently transfer and store data in the cloud or on-premises.
Network & infrastructure - Keep your business running. Anytime, anywhere.
Elevate your data protection