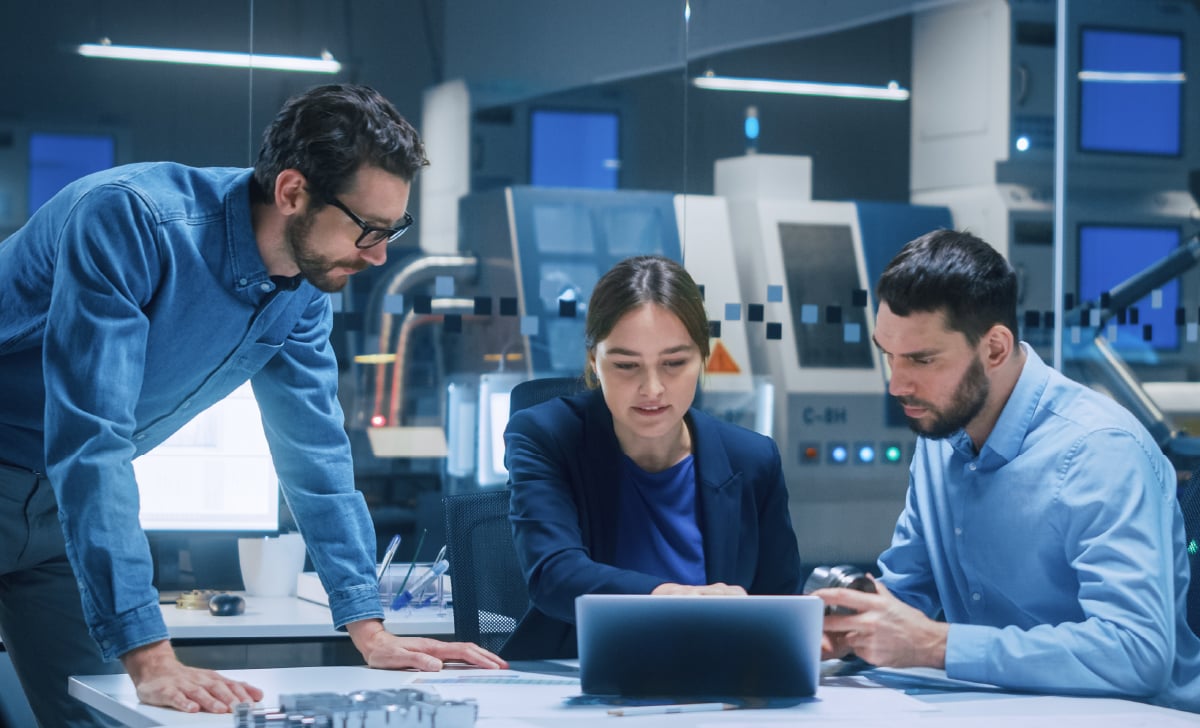 What are the benefits of managed backup services?
You understand the importance of backing up data. But managing comprehensive and consistent backups for all the files and systems in a corporate tech stack is a demanding task. You must do it in a way that:
Supports different industry and business requirements
Uses network resources efficiently
Enables you to get a system back up and running quickly after an incident
Now multiply that by several clients, and managing backups starts to look a lot like a full-time job.
That's why more MSPs are turning to managed backup services. These solutions provide specialized expertise, up-to-date technologies, and dedicated services that help you protect your clients in a data loss incident.
If you are considering a managed backup service provider to support your clients' businesses, understanding their benefits can help you make an informed decision. Let's explore the key benefits of managed backup services and how they can play a huge role in the success and safety of you and your clients' businesses.
What are managed backup services?
Managed backup and disaster recovery services are business-ready solutions that create and store backups of your data, either on-site or in a cloud environment.
For businesses that need high levels of security, have complex compliance requirements, and can't risk being offline for even short periods, such services are often far more cost-effective and convenient than other backup options.
Managed backup services can:
Back up data on-site or in the cloud
Provide secure storage and access to data
Protect systems from malicious attacks
Enable organizations to recover quickly after a disaster
A typical suite of managed backup services includes:
Data encryption and replication
Automated backups and other processes
Monitoring, maintenance, and troubleshooting
Cloud integration
Centralized management
In addition, managed backup as a service offers a high level of expertise and technical support when you need it most. Your managed backup services provider helps keep clients' data and systems secure and acts quickly in the event of an incident. In turn, you have more time to focus on supporting your client's overall needs for performance and growth.
What are some of the specific ways these benefits play out? Let's take a closer look.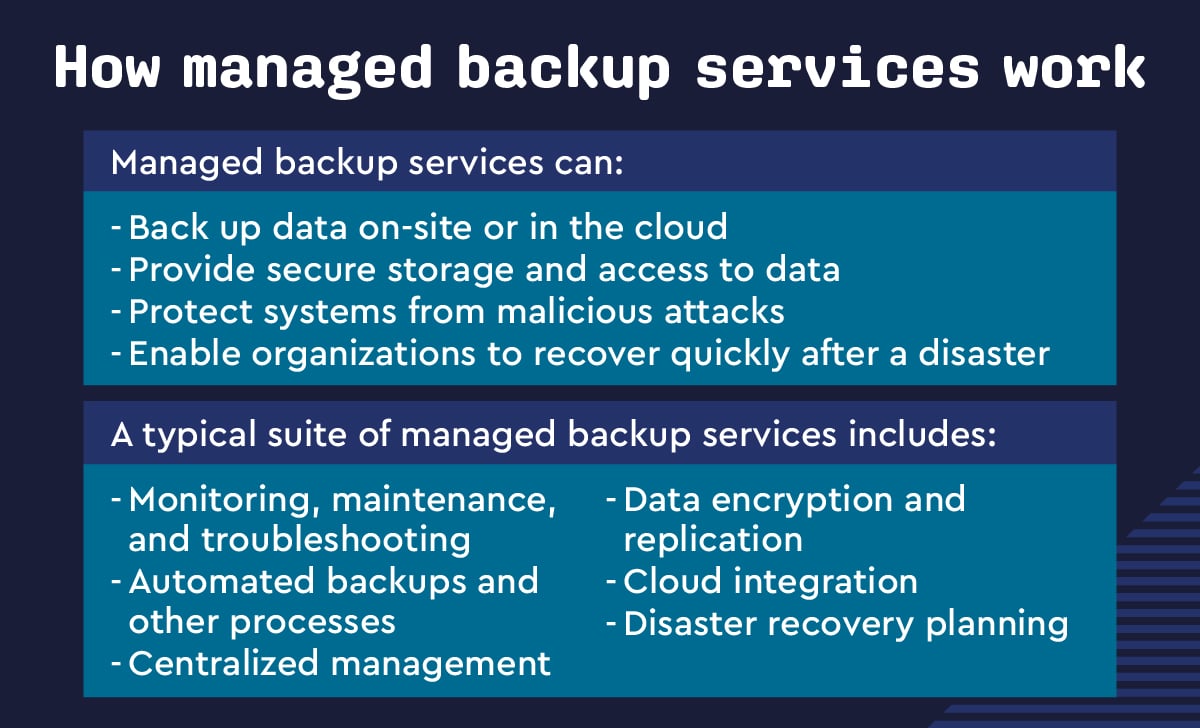 Managed backup service benefits
Managed backup as a service benefits organizations that need secure and reliable data backup solutions—and offers many advantages you may not have considered. When weighing whether you and your clients can benefit from a managed backup service provider, keep these factors in mind.
1. Cost savings
Building and maintaining an in-house backup infrastructure often requires a significant investment in equipment as well as ongoing operating costs related to staffing and maintaining the system. According to a recent report from Accenture, 57% of all IT resources are spent on maintaining systems. Organizations can sidestep these expenses with subscription-based cloud backups, which reduce overall IT costs.
A managed backup-as-a-service provider can reduce data loss and downtime that result in lost revenue. And, unlike other backup solutions that require manual oversight, managed backup-as-a-service providers enable employees to be more productive since they don't need to spend time on labor-intensive recovery efforts.
Outsourcing data management provides the biggest cost savings to growing companies with evolving needs. By choosing a managed backup and disaster recovery service instead of purchasing backup software or building an in-house team, businesses can easily scale their backup needs up or down to meet their current requirements, avoiding the cost of over-provisioning for one-time disasters.
To learn more about how SaaS companies can leverage managed backup service providers to save on costs, download our eBook, SaaS Data Backup: Everything You Need to Know (and Do) About It, today.
2. Additional security and protection
Outsourcing data management provides an additional layer of state-of-the-art security that may otherwise be too expensive for you to implement on your own.
Managed backup services offer data encryption, replication, and secure cloud storage capabilities that ensure compliance with industry regulations and protect data from unauthorized access.
Many services use multiple data centers to save redundant copies of data across various geographical locations, protecting against data loss due to natural disasters or other localized events—an advantage over backup software or on-premises backup.
The highly knowledgeable and skilled professionals working for managed backup solutions keep on top of evolving threats and ensure processes and technologies are up to date to provide an advanced level of defense—and, when necessary, recover data quickly.
Automated backups ensure all data is saved at consistent intervals (hourly, daily, weekly, etc.) and can create redundant copies.
Automation reduces the risk of inadvertently introducing human error into the backup process.
Managed backup service providers take high-level precautions to help prevent data loss from happening in the first place, lowering the risk of costly intrusions and breaches.
3. Better client relationships
Beyond the additional security, using a managed backup services provider helps you be more proactive in addressing and responding to clients' backup concerns, enhancing their perception of your value, and reinforcing your role as a valuable resource. For example:
Automated validation can help you identify and correct issues with data integrity and completeness before an actual event.
Support from backup managed service professionals can help you optimize backup procedures for efficiency and performance by prioritizing critical data and scheduling processes during less busy times. This lessens the burden on your clients' internal networks.
Monitoring and alerts enable you to track the status of backups and address any failures or problems before they become bigger issues.
Regular reporting from managed backup services helps you identify potential weaknesses and vulnerabilities and reveal opportunities for improvement.
4. Operational flexibility
Managed backup services can be tailored to individual organizations' needs and preferences, allowing you to customize your clients' backup solutions to suit their specific operational requirements and business goals. Backup software and other out-of-the-box solutions cannot always provide high levels of customization.
With a managed backup service provider, you can customize a range of services according to data types, prioritization needs, and compliance requirements, including:
Scheduling backups according to specific frequencies or enabling them on demand
Determining data retention and deduplication policies and processes
Defining recovery point objectives (RPOs) for disaster recovery
Hybrid (on-site and cloud) backup options
Granular backups for specific files, folders, and applications
Customized compliance and security, such as access controls and audit trails
Monitoring thresholds, notification policies, and the content and frequency of reporting
Using a managed backup solution minimizes the need for internal IT professionals with specialized expertise to handle these tasks, some of which may require 24/7 monitoring. Building and retaining these teams can be very expensive, so it makes sense to take advantage of an existing resource for a lower cost.
5. Shorter downtimes
Data loss can have a profoundly negative impact on your clients' operations, leading to long periods of downtime and disruption. One of the many valuable benefits of backup as a service is providers' ability to quickly restore data in a disaster, helping to reduce expensive interruptions to normal operations.
Compared to manual backup methods and many backup software solutions, managed backup solutions support faster and easier data restoration with:
Configurable restore points that can be as granular as individual files and folders
Incremental backups that support faster recovery and reduce the impact on network resources by only recovering and restoring data that has been added or changed since the previous backup
Off-site storage and multiple copies of data backups that ensure access to backups when needed
According to Business Wire, 30% of outages in 2021 lasted more than 24 hours, up from 8% in 2017. As more organizations integrate cloud services, outages will likely become more frequent. Overall, data restoration with a managed backup services provider is more reliable, faster, streamlined, and straightforward than a manual approach, allowing your clients to get back up and running quickly in the event of a breach.
6. Recovery support
Many organizations struggle to restore systems and data after a breach. Managed backup providers offer a range of recovery support services that can speed up the process. These include:
Recovery planning. Recovery planning is essential to ensure organizations can quickly and effectively restore data after a breach. A managed backup service will help create a comprehensive and detailed recovery plan tailored to the organization's specific needs, helping them ensure data is quickly restored and operations are up and running again.
Rapid recovery strategies and technologies. Incremental recoveries, snapshots, and virtualized servers can help restore data fast and enable clients to resume normal operations quickly.
Technical support teams. Managed backup and disaster recovery providers have experts in place who can offer assistance, help guide internal teams, troubleshoot issues, and answer questions during data restoration.
Disaster recovery testing. You don't want to find out that your disaster recovery processes don't work or are insufficient after an actual disaster. Managed backup providers engage in regular testing to validate that their plans recover all data as intended.
If you're looking to incorporate backup and disaster recovery into your offerings, check out our webinar, Protecting Your SaaS Data–It's Up to You.
7. Better compliance
Data compliance is a major area of concern for many organizations. Regulatory frameworks like the General Data Protection Regulation (GDPR) stipulate that organizations must protect user data both in transit and at rest, and failure to comply with these regulations can result in hefty fines and reputational damage.
As of 2022, the GDPR has imposed over 2.3 billion euros in fines, and with the implementation of regulations like the California Consumer Privacy Act (CCPA), fines and regulations are likely to become even stricter.
Managed backup solutions providers can work closely with you to provide your clients with the tools and expertise they need to meet customized compliance requirements. Services they offer can include:
Team members who are experts in compliance regulations for specific industries
Encryption and security protocols, including up-to-date secure transmissions and access controls to protect sensitive data and meet privacy standards
Regular audits to ensure processes and tools are compliant and identify any areas that need adjustment
8. Resource conservation
Implementing an in-house backup solution can be a costly and time-consuming process, requiring significant investment in hardware and staff. You can streamline the process and conserve resources by outsourcing tasks like data management and recovery.
Specific ways a managed backup services provider can help lighten the burden of data backup and restoration for your clients include:
Flexible and scalable pricing. Most backup managed service providers allow you to adjust storage capacity and other services as needed so that you can make adjustments based on your clients' changing needs. There's no need to buy expensive hardware or infrastructure and no fear of purchasing a solution that will be out of date in a year.
Less maintenance and management. Managed backup services take on routine tasks like software updates and hardware maintenance, reducing the need for dedicated staff to handle them.
Increased productivity. Since backups are automated and routine tasks are taken care of, you have time to focus on other responsibilities, such as improving and optimizing your own service offerings.
Properly allocating resources is critical to successfully scaling a business, and managed backup services can help enterprises achieve greater efficiency without compromising security or performance.
9. Expert support
The last thing you want to do in a backup crisis is research what to do. Managed backup services can provide you and your clients with fast access to the expertise and resources of dedicated IT professionals who are well-versed in backup and recovery, such as the 3-2-1 backup rule. They can tailor their advice to the specific needs of each business, offering relevant technical knowledge and guidance on:
Implementation and setup
Strategy and planning for backup and recovery
Compliance and security requirements
Backup performance optimization
Many managed backup services offer 24/7 support, allowing businesses to get the help they need when they need it. This can be especially beneficial for organizations new to backup and disaster recovery.
In some cases, you can bundle your backup support with other features like a network operations center (NOC) to address multiple needs simultaneously. Our webinar, BDR + NOC: Backup Your Data Better, speaks to how these two particular solutions interact. In addition, options like the ConnectWise Partner Program can help MSPs and their clients accelerate their backup and data recovery regimens.
10. Scalability
Using a managed backup service provides you with the flexibility to scale quickly and easily. And it's a cost-effective solution, as you can forgo finding and hiring people internally or buying a software solution that clients may outgrow. Features of managed backup solutions that support scalability include:
Flexible storage. You can adjust capacity up or down based on your and your clients' needs, supporting your ability to align with a dynamic business landscape in a way that's cost-effective and resource-efficient.
Centralized management. By providing a single interface to manage multiple clients, managed backup services enable you to add or remove clients easily.
Pay-as-you-go pricing. Many managed backup services follow a model that requires their partners to pay only for the storage and services they use, eliminating the need to purchase equipment or software licenses.
Faster integration and deployment. Using a managed backup and disaster recovery service saves you the time of manually building and configuring services for individual clients. The provider takes care of all of that, enabling you to quickly onboard new clients and get their backup services in place fast.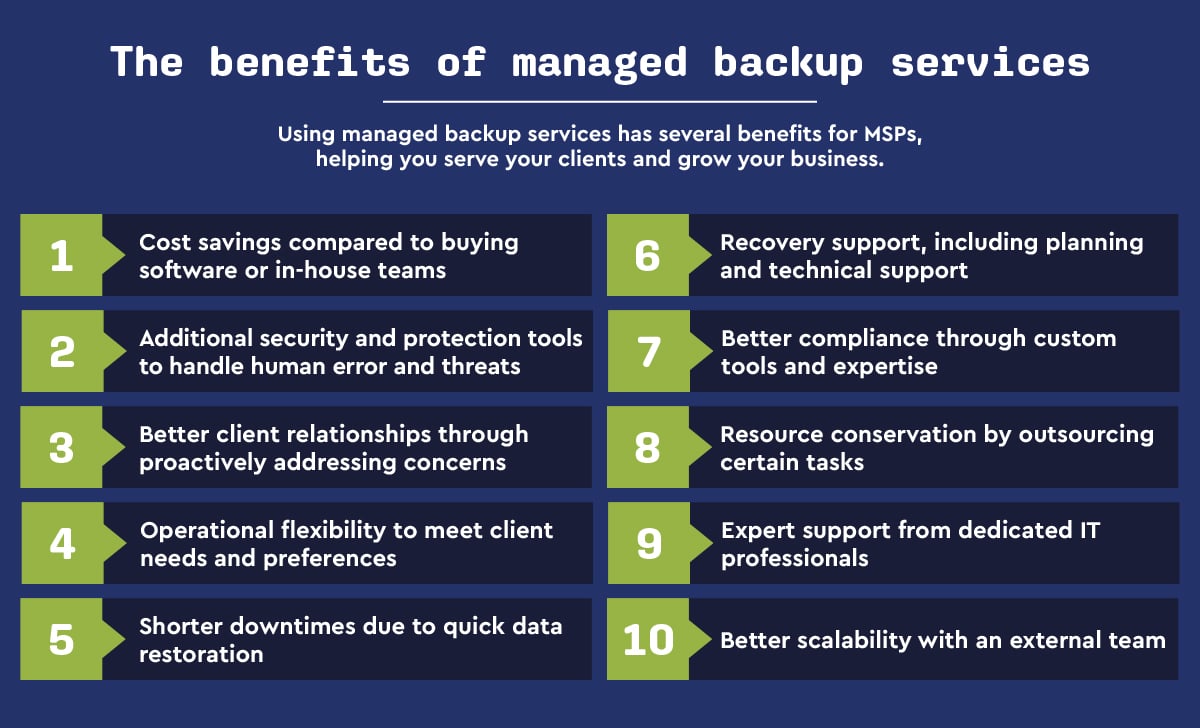 How MSPs can implement managed backup services for their clients
Managed backup solutions are an incredibly helpful resource that can support your clients' business continuity and disaster recovery needs. In our fast-moving and competitive business environment, organizations cannot afford to take the risk of losing critical data or enduring extended periods of downtime. The benefits of backup as a service are comprehensive and include the peace of mind that data and systems are protected.
Providing access to these services can enhance your reputation and credibility as long as you help your clients select a reliable managed backup services provider. Factors to consider include:
Industry expertise. Managed backup solution providers should have highly advanced skills and knowledge of the most up-to-date best practices, technologies, and trends in backup and disaster recovery. Exploring the company's website and LinkedIn profiles can help you determine which service providers have the right expertise.
Make sure the provider offers detailed reports and metrics on their activities, including storage usage, backup activities, failure rates, and more.
Reputation and track record. Research reviews to learn about other customers' experiences. Read case studies and ask for references.
Managed backup services can make the stressful process of backup and disaster recovery planning and execution much easier with automated processes, ample support services, and cost-efficient, scalable offerings.
ConnectWise Co-Managed Backup provides MSPs with an easier option for managing multiple third-party solutions across platforms through a single, unified platform. Features include automated workflows and processes, simplified billing and licensing, and the option to add on NOC monitoring for certain vendors.
Start your on-demand demo of the ConnectWise BCDR product suite today to experience the benefits of streamlined backup management first-hand.
FAQs
Backup management is the process of creating, managing, and protecting data backups, including backing up data to an on-premises or cloud storage solution, monitoring the backups for any errors or problems, and establishing a plan for recovering data in the event of a disaster.
Managed backup is essential to help ensure that data is adequately protected in the event of a disaster. Properly managed backups can help organizations quickly recover from any potential data loss from cyberattacks, natural disasters, or human error, allowing them to continue operations without disruption.
This is best determined by the organization's specific needs, such as how often data changes and how quickly an organization can recover any data loss. Some may need hourly backups; others may only need them every week. Additionally, organizations should regularly test their backups to ensure that they can recover the data in the event of a disaster and that the data is complete and undamaged.
By leveraging managed backup services, organizations can easily automate the backup process, ensuring their data is consistently backed up and protected without having to resort to time- and labor-intensive manual processes. Managed backup services can also provide the expertise and resources of a dedicated service provider whenever issues arise.
Managed backup services do away with the need to build an internal team for backup services by providing access to technology, expertise, and support. This is especially beneficial for small businesses, organizations with limited resources, or those that are relatively new, as having access to a knowledgeable provider can make it easier to get up and running quickly. Additionally, managed backup services offer 24/7 partner support for urgent issues.
Choosing the right managed backup solution can give organizations the peace of mind that their data is secure and protected while also knowing they have support in the event of an incident or data loss.