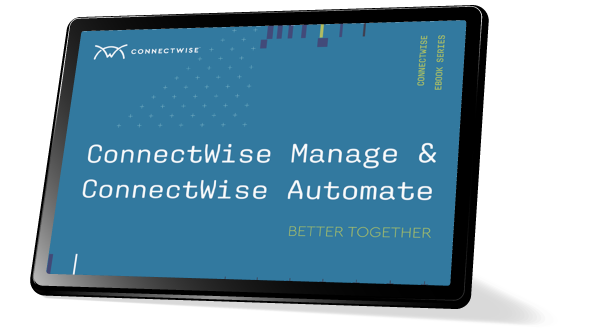 ConnectWise Manage & ConnectWise Automate: Better Together
Time spent digging for information or consulting clients on the phone is time taken way for techs to work on other IT issues. Add to the confusion disjointed systems, and the cost of slow resolution time and lengthy processes begin to pile up.
When two powerful solutions work as one, your service team has access to all the information they need to resolve issues quickly, and out-of-the-box automation capabilities to fix problems before they even reach the client.
In this eBook, you'll see how ConnectWise Manage® and ConnectWise Automate® work together to:
Consistently resolve client issues
Improve resolution time
Fast-track ticket routing and processes
Maximize profits with automated billing
And more
See how to take service delivery to new heights