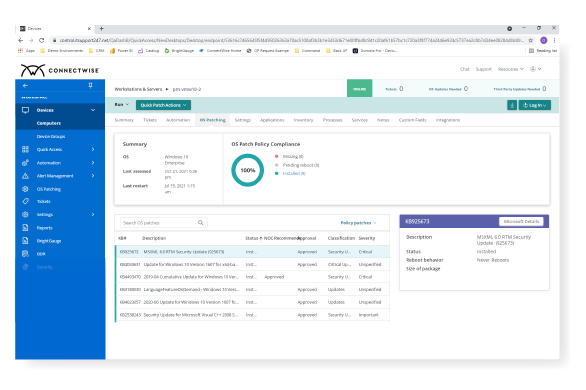 Modern problems need modern RMM software solutions
Client demands may increase, but you still only have 24 hours in the day. With your team stretched thin, it can be hard to keep up. ConnectWise RMM takes the pressure off your team's back so you can get out of the day-to-day and back to growing your business.
See the ConnectWise RMM software solution in action and learn about:
Intelligent monitoring
Intelligent alerting technology combines related events into one ticket, ensuring your techs only receive a ticket when an action is truly needed.
Proactive patch management
Our NOC extensively researches and tests every Microsoft® patch rollup, whitelisting or blacklisting as needed to minimize risk and ensure you are confident when pushing out patches.
Intuitive scripting
Tackle issues as they come up, plan them out in the future, or put them on a recurring, reactive schedule.
Reporting and data insights
See all your essential information in one place with dashboards from ConnectWise BrightGauge right inside ConnectWise RMM, giving you greater visibility for decision making.
NOC services
Expand your business from the technicians you have currently to hundreds overnight with 24/7/365 NOC services for every client.
Welcome to intelligent RMM and NOC services