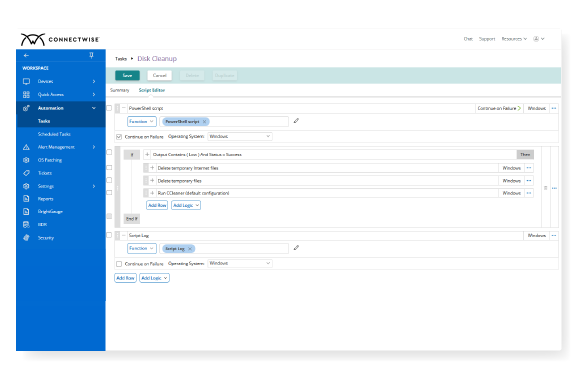 ConnectWise RMM live demo
Find the live session that best fits your schedule. Register now!
Infinite scalability sounds like a fantasy, but it's entirely possible with the right RMM tool. ConnectWise RMM will help you scale as no other RMM tool can. Your techs will have more time to focus on high-value work that grows revenue, boost profits, solve client problems, and moves your business forward faster.
See ConnectWise RMM live in action and learn about:
Deeper automation
Intelligent monitoring starts on day one, and you can add customized automation for your specific business needs—a double-whammy that delivers more value.
Best-in-class performance
Built on modern architecture that offers unmatched flexibility and performance that can adjust quickly to your changing needs.
Rapid innovation and development
A streamlined development cycle offers the ability to get valuable enhancements to you much faster, creating a seamless experience for users.
Next-level security posture
Protecting data is a priority. We've heavily invested in proactive and preventative cybersecurity so you can be confident that client data and systems are safe.
Infinite Scalability
With no size limitations when it comes to customers or endpoints, you're able to focus on growing without worrying about being held back.
Choose Your Closest Time Zone to Find Local Days & Times