Datto Autotask vs. ConnectWise PSA
Autotask vs. ConnectWise; the PSA software comparison all MSPs eventually face. Make sure you choose the right one.

ConnectWise PSA: essential features for MSPs
Are you feeling pulled in different directions? Feel like daily business operations are pulling you away from being an MSP?
ConnectWise PSA makes stressful sales management, chaotic service delivery, and manual billing functions a thing of the past through powerful workflow automation. Experience more free time to focus on providing first-class IT services thanks to these features of our ConnectWise PSA software.
Elevate your customer service
ConnectWise PSA allows you to service and support your clients at every touch point. Our help desk and support ticket features streamline your customer service, keep open tickets and response times low, and keep customers happier.
Customize PSA to fit your business
With over 300 API integrations, your favorite external tools plug right into ConnectWise PSA. Bring the tools you love into a single view to eliminate silos of chaos.
Simplify operations
People, projects, and performance are all in one place with ConnectWise PSA. Track project management, employee timesheets, and performance KPIs all from ConnectWise PSA's simple dashboard reporting. Our pipeline reporting can even simplify your sales process and bring in more revenue.
Increase profitability
ConnectWise PSA drives efficiencies throughout the business lifecycle, helping drive profits through saved time and streamlined operations. Additionally, built-in reporting helps uncover profitability across every contract and project, helping you make better business decisions.
Datto Autotask vs. ConnectWise PSA: side-by-side
Look at a true comparison of how Autotask PSA stacks up against ConnectWise Manage.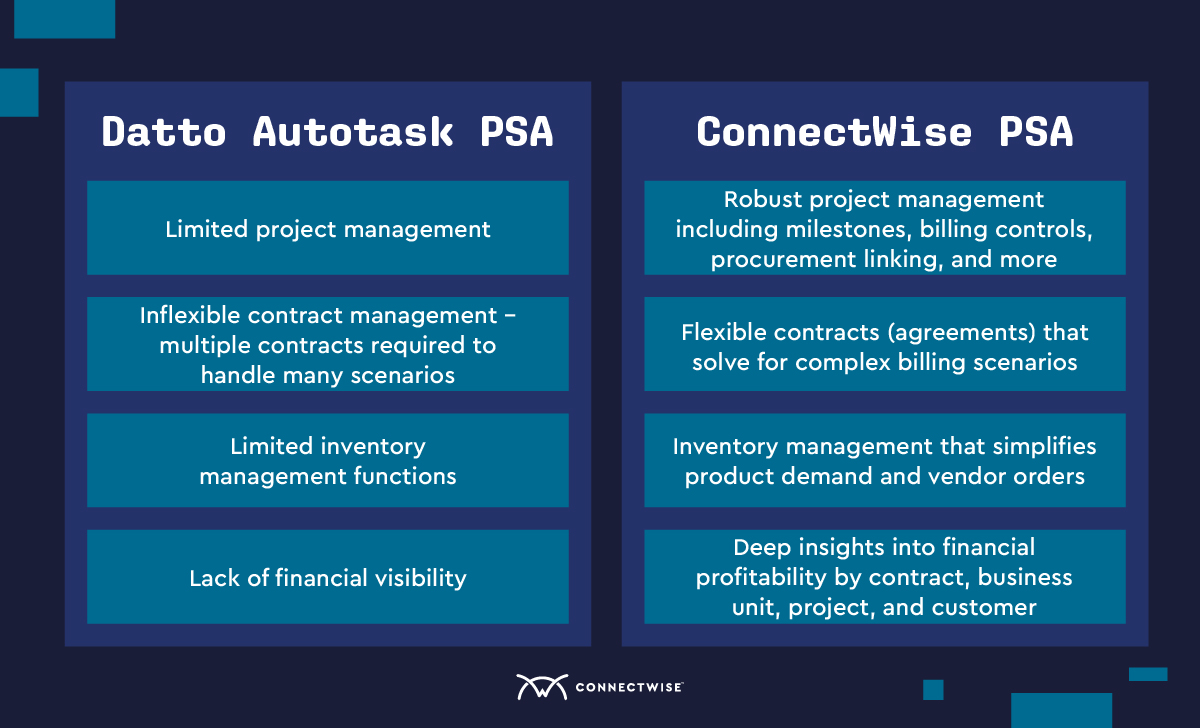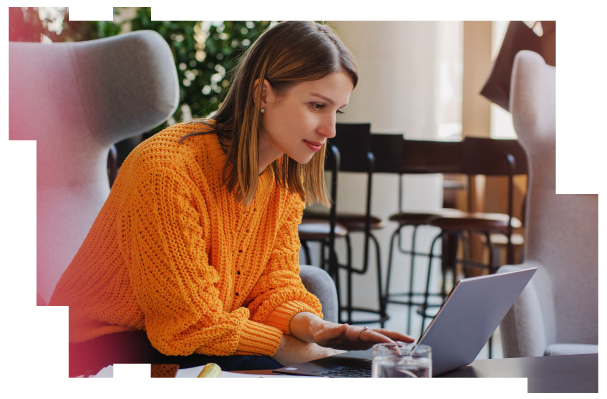 Build out your business automation with ConnectWise
When you compare Autotask vs. ConnectWise, it's clear that ConnectWise is the stronger option. Datto PSA software isn't equipped like ConnectWise PSA is to can offer you what you need to scale and grow.
So, what are you waiting for? Transform your business with ConnectWise PSA. To get started, contact us today.
If you're looking for more business management solutions, try a ConnectWise PSA demo. It may be the perfect tool to help you automate pesky operational tasks. We offer trials & demos of most of our MSP tools, so choose the platform that works best for you.
Request a Demo
FAQ's
What is a PSA software?
A PSA software is a professional services automation platform. These software applications help MSPs, and other IT professionals automate the everyday tasks of running a business like customer management, help desk management,billing, reporting, and more. Everything is handled in the background so MSPs can focus on what they do best, providing managed IT services.
What is PSA in automation?
A PSA, or professional services automation platform can automate anything relating to the daily operations of your business. This could include customer support, help desk tickets, client relationships, HR functions, billing, etc. Leveraging this technology is beneficial to MSPs and other IT professionals who want to automate daily business operations and focus more on IT services.
What does PSA mean?
PSA means professional services automation. MSPs and other IT professionals use PSA platforms to automate the everyday operational tasks of their businesses. This frees them to focus solely on providing their clients with first-class IT services.