Cybersecurity: Providing high value support during uncertain times  
We are in the middle of a seismic shift in how people work. More people are working remotely, cybercriminals are actively searching for new vulnerabilities, and your clients are looking to you as their technology solution provider to keep them secure. And while your clients expect a certain level of security, the tools you've used in the past may not provide everything they need. 
Every SMB will be re-examining their contracts to ensure they're receiving the most value for their money.  Even prior to COVID-19, 93% of SMBs said they would switch TSPs for one with the right security offering. So, it has never been more critical to shore up your security solution to make sure you're offering high value, advanced security that you can be confident will help you optimize, maximize, and ensure long-term secure success for your clients—and your business. To provide proper cybersecurity for a remote workforce, you'll need to ensure your security offerings take into account the following:
Solutions
Examine the security tools and services you offer and ensure it's an advanced stack, including endpoint detection and response, dark web monitoring, password policies, multi-factor authentication, and mobile device security. And when it's backed by a 24x7 SOC, you can execute quickly because you have an expert team behind you.
ConnectWise MSP+ Foundation Pack >>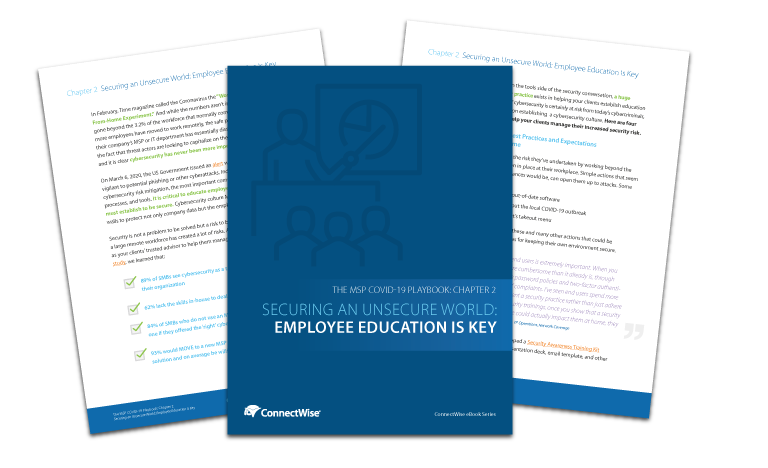 Employee cybersecurity education is key
Train your end users on the latest cybersecurity best practices and arm them with the knowledge to combat whatever threats come their way.
Get my playbook >>