Colleague Spotlight: Heather Decubellis
Meet Heather Decubellis, Director of our Field Marketing team. Heather began her journey at ConnectWise as a Community Specialist and in the last nine years, grew her career to now manage the team. We'll explore more about her career development at ConnectWise, what she enjoys about her work, and how she's continuing to create opportunities for our partners.
Getting started at ConnectWise 
What did you do before joining ConnectWise?  
I established and managed a start-up company organizing global volunteer trips for high school and college students, as well as small- to medium-sized businesses. My passion has always been with organizations and companies that truly make a difference in the communities in which they operate. When I made the decision to transition into corporate America, I knew I needed to find a company that aligned with my core values. I stumbled upon ConnectWise and knew immediately it was a company where I could make a real, positive impact.
Being a ConnectWise colleague 
What different roles have you had with the company?   
My first role at ConnectWise was Community Specialist. In this role, I helped plan and facilitate global industry events for our partners and community. I traveled every other week, built valuable connections within the IT channel, and met our partners face to face to collaborate on opportunities that would help them grow their businesses.
On the road, I learned about our partners and the IT industry. However, the most substantial lessons came from experiencing first-hand how our software helps our partners run their businesses and impacts their everyday lives. As I advanced my career at ConnectWise, my passion for global marketing grew and I began to also support revenue-generating activities through integrated demand generation programs.
Fast forward nine years. I have grown my career at ConnectWise and currently oversee the Global Field Marketing team. The Global Field Marketing team effectively drives pipeline acceleration opportunities to evangelize company products and corporate strategies. Our face-to-face global events provide a platform to create relationships and empower IT solution providers (TSPs) with unmatched software, services, and community to achieve their most ambitious vision of success.
I'm also extremely proud to say that I initiated conversations and pioneered the ConnectWise Foundation. I saw a unique opportunity at ConnectWise to create a community program for our colleagues and partners to give back to their local communities. I spearheaded the very first IT Nation Gives program. This program allows our colleagues and partners to give back at our largest industry event IT Nation Connect by choosing various charities to focus our efforts on each year.
What do you enjoy about working at ConnectWise?   
Our partners! While working at ConnectWise, I've had the unique opportunity to meet the most incredible group of global IT professionals, watch their businesses grow, and even see some retire. We truly have an amazing community of like-minded professionals who are invested in their businesses, but also take pride in networking to help their peers. I'm extremely proud to work at a company that is invested in my personal and career growth, but also works to enhance the development of the IT community. It's an experience I don't think you'll find at many other companies.
What's something about your job that makes you feel accomplished?   
The ability to create opportunities for our partners to interact directly with ConnectWise, allowing them to experience our unmatched software, services, and community. Our Field Marketing team is constantly looking at ways to innovate, grow, and support unique experiences for the IT Industry.
What's something that you want people to know about ConnectWise?  
Our award-winning culture is like no other. ConnectWise is a place where you can collaborate, innovate, and grow your career. Our colleagues bring a "work hard, play hard" culture to the table every day. This attitude helps create opportunities for individuals to have a voice in influential processes and strategies. At the end of the day, the relationships I've developed with my colleagues at ConnectWise feel more like family than friends. It's rare that your workforce becomes one of your most prized social circles.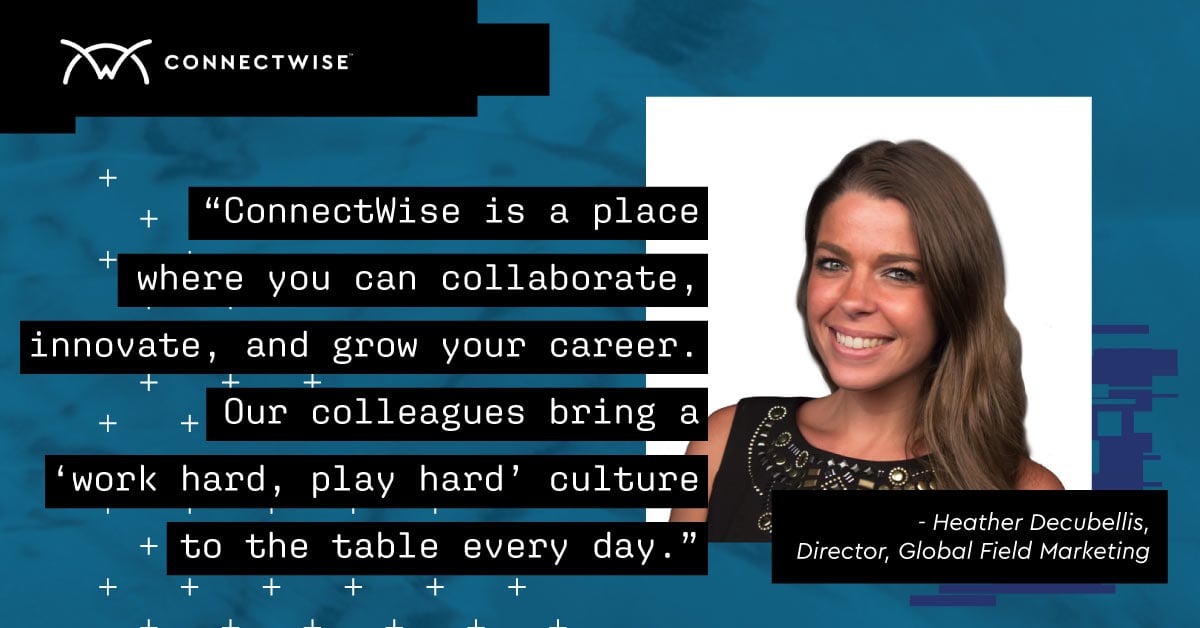 What's a big win that you're proud of?   
I'm extremely proud to say that in 2013, I had the courage and opportunity to present the overarching plan to launch the ConnectWise Foundation. As a brand-new colleague, ConnectWise gave me the platform to create a full-fledged program from an idea rooted in my values, allowing our colleagues and partners to give back to their local communities. Today, the ConnectWise Foundation strives to support meaningful experiences that build strong communities while promoting a culture of philanthropy. Each initiative we support is tied to one of the four core philanthropic pillars of the foundation: exposure to technology, youth education and mentoring, environmental sustainability, and veterans.
And now for some fun!  
If you can have any superpower for 24 hours, what would it be and why?   
I'd love to teleport. I'm a traveler at heart and would love to see every country and continent. Think about how awesome it would be to wake up in the morning and travel to South Africa in just a blink of an eye.
What's your go-to karaoke song?   
I Wanna Dance with Somebody by Whitney Houston. I can't hit the high notes but there's nothing better than gathering a group of friends and belting out some Whitney Houston!
What's one bucket list item you're looking forward to?   
I have a huge passion for running, especially marathons. I have a dream of running the six Abbott World Marathon Majors. I've only completed New York City to date but will be running Berlin in 2022 and have high hopes to collect all six in my lifetime. Besides, what's more fun than racing with Olympic athletes and 30,000 of your closest running pals? The energy is contagious.