IT Nation Connect 2023 keynote speakers
We are thrilled to welcome outstanding keynote speakers to IT Nation

Connect 2023

.
SESSIONS ARE LIVE!
View the full list of sessions and speakers and start planning your days to maximize your experience on-site.
Featured keynote speakers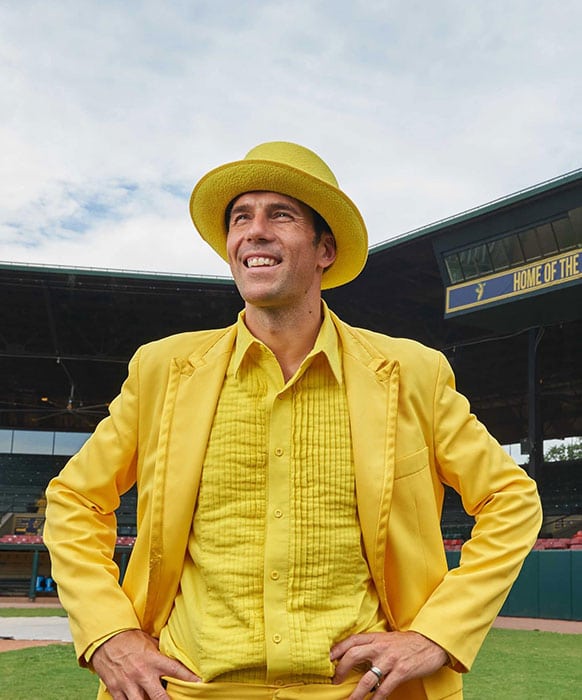 Jesse Cole
Jesse Cole is the founder of Fans First Entertainment and owner of the Savannah Bananas, a well-known baseball team that has sold out every game since their very first season. Not only does the team have a ticket waitlist that's well into the thousands, they've also amassed a huge social media following—over 2 million followers on TikTok alone—and have become known as "TikTok's favorite team." Jesse has been featured in Entrepreneur Magazine, MSNBC, ESPN, HBO Real Sports, on over 1000 podcasts, and once at his son's show and tell.
As a man of many talents, Jesse is the proud inventor of Banana Ball and Dolce and Banana underwear as well as the not-quite-as-proud promoter of the Human Horse Race and Flatulence Fun Night. He is also the author of two best-selling books, Find Your Yellow Tux and Fans First. Fun fact: Jesse owns seven yellow tuxedos and proposed to his wife, Emily, in a yellow tux in front of a sold-out crowd. He and Emily have one son, Maverick, and are also proud foster parents. Jesse has traveled the world giving keynote speeches and sharing the Fans First Experience, and we couldn't be more thrilled to have him at IT Nation Connect 2023.
Keynote details
Fans First: The 5 E's to Create an Unforgettable Experience
Businesses all live in their own niches and serve different groups of people, but they all need to create rabid, dedicated fans. To do this, they need to change the game, break the rules, and create an unforgettable experience. In this keynote session, you'll learn the 5 E's that have made the Savannah Bananas into a national phenomenon and how to apply them to your business. 
Eliminate friction | Entertain always | Experiment constantly | Engage deeply | Empower action
Sneak peek: Can't-miss sessions
Five new session tracks are 100% focused on your most relevant business challenges, and every round is packed full of valuable content led by industry experts from the ConnectWise community and beyond our industry.
Track: Business Operations & Strategy
Business transformation can include reassessing everything from long-term goals to daily operations. Hear from experts and other TSPs about building best-practice strategies for business operations, growth, and profitability excellence.
Track: Cybersecurity Operations & Sales
Top-notch cybersecurity can lead to decreased risk and new revenue. Industry experts will discuss practical ways to strengthen internal cybersecurity policies while grabbing more market share with cybersecurity services that sell.
Track: Employee Development & Retention
Attracting and retaining employees is essential for efficient operations and customer satisfaction. Get ready to learn best practices for maximizing your talent pool with internal training and retention strategies.
Track: Customer Acquisition & Retention
Customer retention and satisfaction can make or break profitability goals. See what the experts recommend for sales, marketing, customer success, and service delivery practices that protect growth and profitability.
Track: ConnectWise Product Education
Make the most out of your ConnectWise partnership with training for the solutions you already use and educational sessions geared toward solution awareness and roadmaps for upcoming innovations.
Here are five sessions you won't want to miss:
Asio Platform Vision & Roadmap 
Jeff Bishop - EVP & GM, Platform, ConnectWise
Join this informative session to learn more about what is coming for the ConnectWise Asio platform as we move into 2024! In this session, we will focus on what's coming in the near term, and talk a bit about what the plan is for the future of the Asio platform as we continue to modernize and drive innovation for our offerings.
Demystifying Artificial Intelligence and Machine Learning to Harness its Power
Raghu Bongula - Chief Technology Officer, ConnectWise
MSPs have a plethora of options for AI today. This session will offer recommendations on where AI can have a significant impact in your business. Join to explore real life AI use cases and behind the scenes AI implementation examples.
Staffing Solutions Through PSA Automation
Lynette Polzin - Software Training Consultant, ConnectWise
Join this session to learn how to strengthen your service desk and ease confusion with turnover through automation in ConnectWise PSA. We'll cover automating incoming requests for equitable ticket distribution with Round Robin, setting up the PSA End User Portal and ticket templates to expedite ticket creation, and using workflow rules assigned to roles to "turnover proof" your service desk. Come learn how ConnectWise PSA can help you optimize your service desk operations, enabling your team to follow consistent service delivery processes and deliver exceptional support.
10 Things You Need to Know to Have Success with M&A
Arlin Sorensen - VP of Ecosystem Evangelism, ConnectWise
This session will identify 10 key areas you need to understand if you want to be successful in the fast-paced world of M&A. You'll learn about an upcoming M&A bootcamp at the event.
Automating Solution Delivery in Automate
Devon Barrett-Barrot - Software Training Consultant, ConnectWise
In this session, we will be learning how to script, deploy, and maintain new solutions automagically using Automate.