Build a foundation for data security and disaster recovery to fit your clients' needs no matter the budget. Sustain the confidence and control of on-premise backups, modernize for the cloud, and build a hybrid backup solution—ConnectWise Continuity Backup provides the means to safeguard critical business data and restore business operations at hyper speed.
Dive into the key features and benefits of ConnectWise Continuity Backup
Advanced data verification
Leverage Tru-VerifyTM, an advanced proprietary verification process that provides recovery-point-integrity checks. Get time-lapse video of entire boot processes—while auto healing recovery points that can't be virtualized—for maximum visibility, faster issue resolution, and performance assurance when needed most.
Secure, reliable cloud infrastructure
ConnectWise Cloud, powered by the IBM Cloud®, is built with advanced cloud security with 24/7 DDoS prevention and automatic data replication between datacenters—making ConnectWise Continuity Backup one of the safest, most reliable, and highly-scalable backup platforms on the planet.
Continuous data protection
ConnectWise Continuity Backup automatically captures and tracks data modifications by utilizing change-block tracking to constantly track and only replicate changed data as it is written to storage. This lets users or administrators restore data to any point in time—within minutes, not hours or days.
Ransomware resistance
Ransomware is a looming threat to any business that stores data of any kind. AES-256 block level encryption protects and secures data at rest, in transit, and in the cloud.
Expert BDR management
Backed by ConnectWise's certified NOC technicians with expertise in BDR. They're on-call 24/7/365 to handle the day-to-day management, monitoring and troubleshooting of backups and recoveries so you don't have to.
ConnectWise BCDR (formerly Recover) Archive
Certain businesses face strict archiving requirements because of State, Federal, and/or other policies and regulations. Enable policy-driven, off-site archive add-on that replicates backup images to a secured public or private cloud for long-term storage and easy retrieval.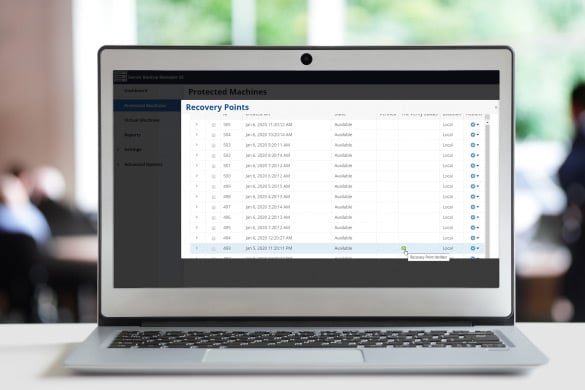 Reliable backup and data protection when your clients need it most
See how ConnectWise BCDR delivers reliable, secure, and fast backup and disaster recovery to get your clients up and running after any data loss event in minutes, not days.
Start my demo >>
Check out other ConnectWise BCDR products