Cash flow management for when revenue dries up
When the economy is in flux, do you have effective cash flow management? Do you have enough cash reserves to weather the storm for an extended period?
Tips for financial health during an economic downturn
Reach out to your clients about payment timing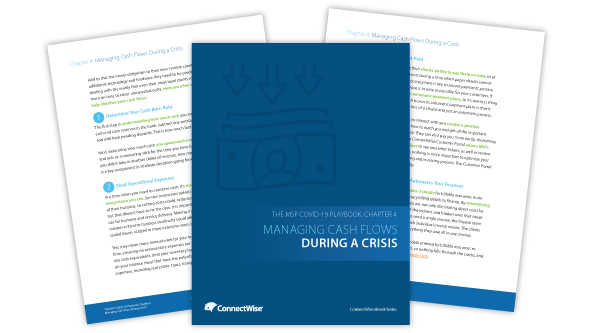 Stabilize your financials in an unsecure economy
Many MSPs only have a month of cash reserves on hand, making it vital to have a crystal-clear understanding of their company's financial operations. Determine your cash burn rate, gain visibility into your finances, and cut expenses to build resilience.
Get my playbook >>
Streamline your process for improved cash flow
Cash flow worries keeping you up at night? Ultimately, nothing is more important to optimize your company's cash flow than your billing and invoicing process. Having the right tools makes it easier to track time, bill clients, and get paid faster.
"The ability to use invoice routing and workflow processes has allowed us to cut several days off of our invoicing cycle which in turn accelerates cashflow by several days. Increasing our cashflow rate by 15% equals about $150,000 for our business"
Peter Melby, CEO, Greystone Technology