Cash flow management for when revenue dries up
When the economy is in flux, do you have effective cash flow management? Do you have enough cash reserves to weather the storm for an extended period?
Tips for financial health during an economic downturn
Cash is the most important KPI you have right now. Normally you wouldn't need to track the cash that comes in and out of your accounts each day, but during these times, you need to be laser-focused on it. And it extends beyond merely the cash coming into your account. Revenue is going to slow down, so you must ensure you know how your cash level ebbs and flows.
Keep your eye on the finance KPIs that matter most >>
Reach out to your clients about payment timing
Being proactive during this time is critical to your recovery. Forecasting, budgeting, and looking at different scenarios is a must. What happens if you lose 10% of your revenue versus 30%? How is your response different for one versus the other? You do not want to operate in reactive mode. Forecast ahead to make sure you are looking at all potential scenarios before they happen.
Gain insight into all possible scenarios through budgeting >>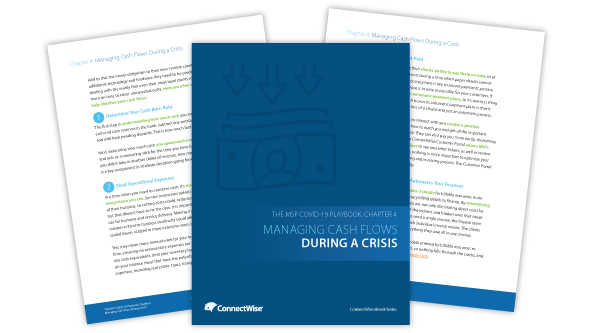 Stabilize your financials in an unsecure economy
Many MSPs only have a month of cash reserves on hand, making it vital to have a crystal-clear understanding of their company's financial operations. Determine your cash burn rate, gain visibility into your finances, and cut expenses to build resilience.
Get my playbook >>
Streamline your process for improved cash flow
Cash flow worries keeping you up at night? Ultimately, nothing is more important to optimize your company's cash flow than your billing and invoicing process. Having the right tools makes it easier to track time, bill clients, and get paid faster.
"The ability to use invoice routing and workflow processes has allowed us to cut several days off of our invoicing cycle which in turn accelerates cashflow by several days. Increasing our cashflow rate by 15% equals about $150,000 for our business"
Peter Melby, CEO, Greystone Technology