Tool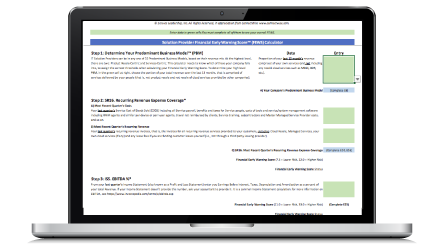 MSP financial health and early warning score calculator
The Financial Early Warning Score™ Calculator by Service Leadership, Inc.®
Do you know where your MSP's financial health stands? In past recessions, MSPs have experienced a 30% loss of revenue, which was catastrophic for their business. The top MSPs who survive economic downturns are those that can cut costs or continuously keep a positive Net Income. We'll show you how you can do the same.
Use the Financial Early Warning Score Calculator, created by Paul Dippell and Service Leadership, Inc.®, for ConnectWise. By plugging in your numbers, you'll discover what your exposure to financial risk is in the event of a downturn. Based on your score, you'll also receive suggested actions to take to ensure the safety of and best financial outcome for your organization.
Service Leadership is the publisher of the Service Leadership Index®, the solution provider industry's largest-scale and longest-running financial and operational benchmark, and of SLIQ™, the exclusive app for improving a solution provider's Operational Maturity Level™.