Overcome the operational challenges of the COVID-19 pandemic
Adapting to a remote workforce and the uncertainty of the COVID-19 pandemic has created a lot challenges for managed service providers (MSPs). During a crisis or economic downturn, it's critical to invest your time, energy, and focus into efforts that drive continuous improvement in your business. Control what you can and do your best to react to the ever-changing world.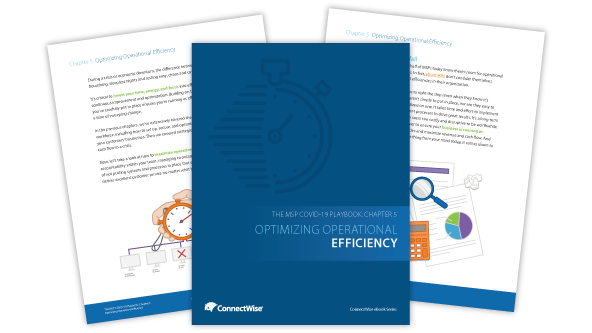 Optimizing operational efficiency in your MSP
Establish accountability across your teams and manage the outcomes to empower your employees to deliver excellent customer service during unprecedented times.
Get my playbook >>
How to create operational efficiency across your business
"With ConnectWise PSA and ConnectWise Automate®, we can manage efficiency within .02%. Time is 100% accounted for, and utilization is up to 95%."
Greg Bazar, President, Simpatico Systems LLC