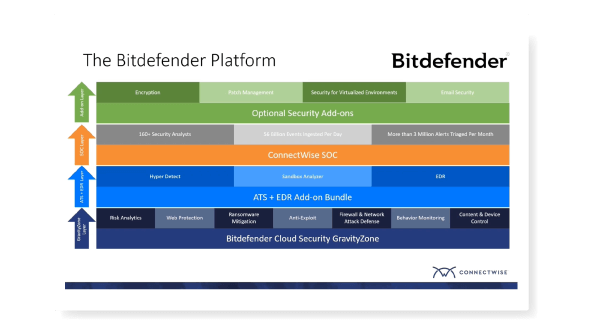 ConnectWise MDR with Bitdefender demo
Cyberthreat groups have turned their eye toward MSPs and their clients, mainly finding access through endpoints. Preventive practices are a must in stopping attackers in their tracks. ConnectWise MDR™ with Bitdefender moves beyond legacy cybersecurity tools to continuously monitor, detect, and respond to cyberthreats across all managed endpoints for every client.
See ConnectWise MDR with Bitdefender in action
Access a highly trained SOC
Combine EDR with the largest, fully staffed SOC that understands the MSP business model, effectually extending your team with cybersecurity experts.
Get scalable protection
From foundational security to advanced solutions, get the protection you need to meet growing cybersecurity needs for your business and clients.
Monitor threats 24/7/365
Take the burden off your team and maintain work-life balance secure in the knowledge that experts are monitoring all your managed endpoints and mitigating threats.
Stop alert fatigue
Our SOC weeds through all alerts to determine what is actionable, freeing your team to focus on high-value work for clients.
"Prior to taking on ConnectWise EDR with the SOC, we saw a statistic stating that the average response time to a ransomware attack for an MSP was 14 hours. Our average response time is now less than 14 minutes. This allows us to show clients real value in the selling and delivery process."
—Robert Gelsinger, CEO, Secure Network Services
Protect all managed endpoints