Valuable resources to build a secure remote workforce
We're in the middle of a seismic shift in how people work. As Time Magazine said it back in February, COVID-19 will be the "World's Largest Work From Home Experiment." The number will dwarf the 3.2% of remote workers that normally comprise remote workers.
With your clients shifting to remote workers, it's your job as their managed service provider (MSP) to help them build a secure remote workforce. It takes a group effort to secure a remote workforce—from security measures, tools, end-user training, and more.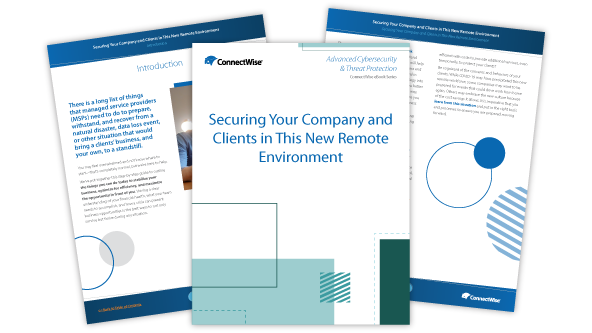 Secure your company & your clients
Cybercriminals are getting aggressive as employees leave the secure environment of work. Extend your security perimeters to keep threats out of your end users' homes and your clients' networks.
Get my playbook >>
Remote workforce security resources
Get tips and advice to secure your remote workforce from these additional resources.
18 Things to Make Your Remote Work Secure, Convenient, and Stress-Free
Download our checklist for 18 things your clients can use to educate their staff and keep them secure while they work from home.
Looking for a remote access solution?
ConnectWise Control® is a remote work solution that enables your remote workforce efficiently and securely.
Explore ConnectWise Control >>