Colleague spotlight: Niki Watson
Meet Niki Watson, Manager, Learning and Development for the Partner Education team. One of the things Niki enjoys most about working at ConnectWise is being part of a group of hard-working, highly skilled professionals. Read on to learn more about Niki's journey since she joined in 2018.
Getting started at ConnectWise
What did you do before joining ConnectWise?  
A few months before I completed my Master's in Instructional Design at The University of Tampa—this was back in 2014—I was offered a job as an Instructional Designer at Pasco-Hernando State College. After two years, I was promoted to Senior Instructional Design Coordinator and worked in that role until I joined ConnectWise as the Learning and Development Manager in 2018.
Being a ConnectWise colleague
What do you enjoy about working at ConnectWise?  
I love my team! I really enjoy being a part of such an amazing group of hard-working, highly skilled professionals. I also appreciate that ConnectWise places such high value on education and professional development. For example, any colleague with one year of service at ConnectWise is eligible to apply for our master's assistance program, which offers financial assistance for colleagues seeking advanced degrees that will further their careers.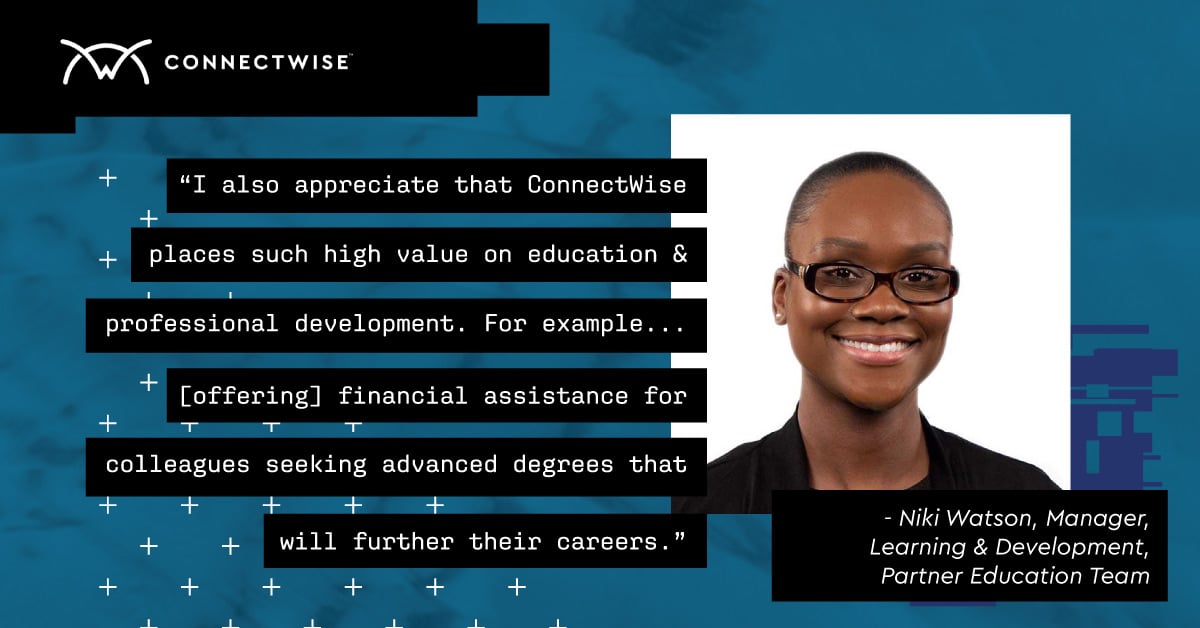 What's something about your job that makes you feel accomplished?  
Having the opportunity to make an impact on our partners, industry, and colleagues inspires me to produce excellent work each day. When I hear positive feedback from colleagues or partners, it helps me understand that what I do helps improve others' lives and this instills a sense of accomplishment that brings me joy.
What's something that you want people to know about ConnectWise? 
I want people to know that our core values aren't just nice words on a screen. We love what we do! It's truly a blessing to work with such dedicated and knowledgeable professionals who take on the responsibility to innovate and deliver a positive experience with colleagues and partners every day.
What's a big win that you're proud of?  
We recently launched new on-demand certification programs on ConnectWise University, our online education and training platform. Through our certification programs, partners learn how to work smarter and be more productive by strengthening their understanding of IT solution provider (TSP) best practices and adoption of the ConnectWise platform. It takes a lot of effort, collaboration, and dedication from multiple teams to deliver a project of this scope. As of July 2022, the first ConnectWise CPQ™ (formerly Sell) Quote and Proposal certification is now live on ConnectWise University!
And now for some fun!
If you can have any superpower for 24 hours, what would it be and why?  
I would love to have superspeed! I am always on the go, and it would be awesome to go from one place to another as fast as possible with minimum effort.
What's your go-to karaoke song?  
Shania Twain's "Man! I Feel Like a Woman." You're guaranteed to have at least half the room singing along with you! "Let's go, girls!"
What's one bucket list item you're looking forward to?  
I would love to go to Brazil and visit the Christ the Redeemer statue. The magnitude of this icon is so impressive in photos that I cannot even begin to comprehend how incredible it would be to see this in person.