eBook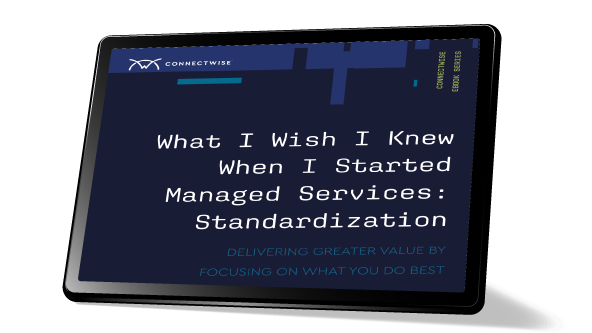 What I Wish I Knew When I Started Managed Services: Standardization
As a managed service provider (MSP), you shouldn't try to be all things to all people. Customizing your offerings to customer demands may seem like a good service strategy—but doing so compromises your company's efficiency, productivity, and continued success.
Instead of bending to customers' will, savvy MSPs standardize offerings and stick to what they do best. In this eBook, we'll examine how standardized offers can benefit your business in the long run—and make life easier in the short term.
Chapters include:
Doing What You Do Best:

Standardize offerings to play to your strengths.
Reaping the Rewards:

Optimize for productivity—and profitability.
Getting Your Sales Team on Board:

Explain what you're offering, what you're not, and why.
Achieving Your Goals:

Create a commission structure that consistently incentivizes reps.
Standardize your MSP services