eBook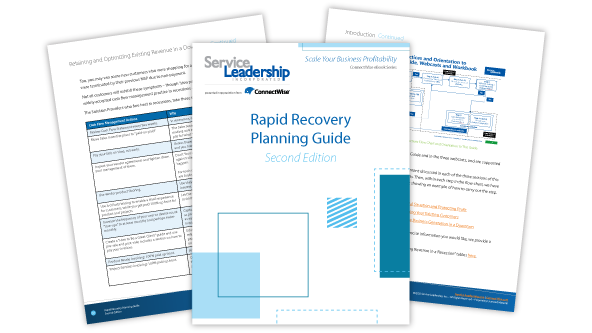 MSP Rapid Recovery Planning Guide
In times of economic downturn, is your MSP prepared for survival? The COVID-19 pandemic has opened our eyes to how quickly unexpected events can impact our businesses. The key to seeing any recession through is getting your business on solid financial ground.
In the Rapid Recovery Planning Guide, created by Paul Dippell and Service Leadership Inc.®, for ConnectWise, discover ways that your MSP can come out on top.
This is a comprehensive, 80-page guide that outlines in detail what it takes to prepare for and accelerate recovery. Inside, you'll learn:
How to determine your financial situation and protect your profit in any macro-economic scenario
The possible impact on your specific business, whether you're product- or project-centric
How to forecast, and continually re-forecast, your Gross Margin and Expenses, Net Income, Revenue, and more
How to adjust your spending to ensure a positive Net Income each month
How you can retain revenue from existing customers and add new business
Service Leadership is the publisher of the Service Leadership Index®, the solution provider industry's largest-scale and longest-running financial and operational benchmark, and of SLIQ™, the exclusive app for improving a solution provider's Operational Maturity Level™.