eBook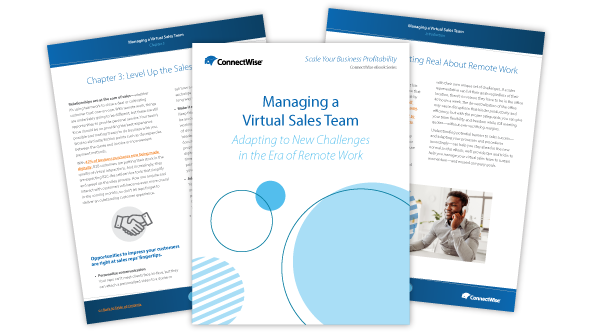 Managing a Virtual Sales Team
Best practices for managing a remote sales team
Working from home is here to stay. Some analysts predict that 25-30% of the workforce will work from home multiple days a week by the end of 2021. However, having a remote sales team during the pandemic quarantines presented some unique and unexpected challenges. Do you have a plan to navigate this new normal? Your sales team should be no exception as long as they're hitting their numbers and providing the same level of customer experience.
According to customer experience research from PwC, buyers place a high level of importance on the experience a company provides, with 80% considering it as just as important as its products or services, and 86% are willing to pay more for a great customer experience.
Download our eBook, Managing a Virtual Sales Team, to learn the processes and systems that will help keep your sales team on track to meet your revenue goals regardless of location. New sales will be crucial in your ability to rebound from COVID-19 and continue to grow.
Level up your virtual sales experience