Feature Sheet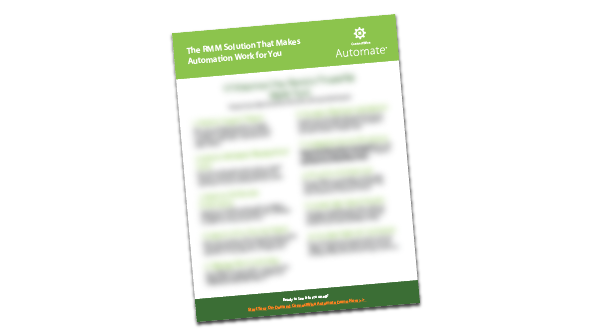 10 Reasons You Need a Powerful RMM Tool
For many solution providers, automation may seem like an empty buzzword. But in reality, it can be the key to sustainable success—and a streamlined service delivery process.
Still not convinced? This concise, to-the-point feature sheet explores the top 10 reasons why an RMM tool can set your organization apart—and help you get ahead. From reducing support tickets to increasing customer value and everything in between, a robust RMM tool can make automation work for you, so you can work more seamlessly.
With ConnectWise Automate®, our powerful RMM solution, you can fulfill your organizational objectives, simplify workflows to drive greater value, and generate efficiencies across every aspect of your business—freeing up time for what matters most. It all starts with RMM. Is it time you got on board?
Transform your business with RMM