ConnectWise RMM: Less time on support tickets means better margins
Automate your technician's day-to-day activities through a single intuitive interface.
Start with powerful out-of-the box automations to handle and solve alerts. Get expert Done-For-You deep customizations with our NOC services and help desk.
We couldn't wait to show you ConnectWise RMM, and we're thrilled that it's here! But enough about us, because ConnectWise RMM software is all about you. The combination of RMM automation, customization, and NOC services is built to take your business to new heights. Read on to see how what ConnectWise RMM can change your business.
An RMM that focuses on the future
Past RMM solutions have begun to look the same. Everyone sells one, and they all do the same thing in the same way. Additionally, industry have moved toward cloud services, and the software designs and architectures for exiting RMMs are aging out. We saw the writing on the wall, and ConnectWise RMM was born.
We built ConnectWise RMM on the new ConnectWise Platform, so we can stay true to our roots and keep innovating for you. The cloud-based platform gives us the ability to quickly adopt new tools, techniques, and programming methods, so we can always meet the changing needs of our partners and their customers.
The core difference of ConnectWise RMM is the combination of software and human elements. Human-led customization, automation, and NOC services together reinvents how you adopt, use, and manage your RMM moving forward.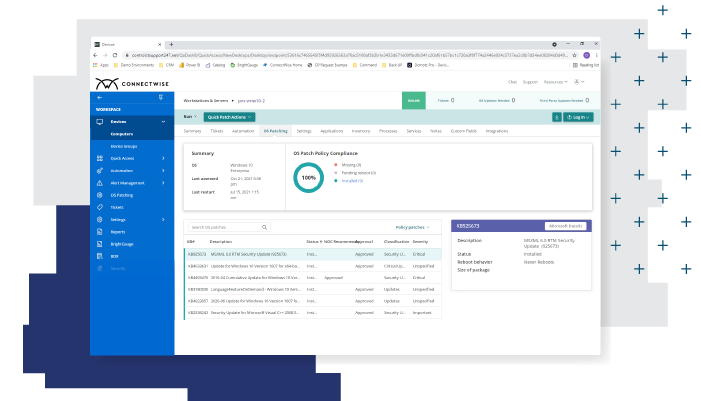 ConnectWise RMM highlights
Manage more of your tech stack with a single intuitive interface

Adopt the solution more quickly and see ROI faster with an easy-to-adopt interface

Meet your specific needs with automation and deep customization in one solution

Fill talent gaps and offload repetitive tasks to our expert services team

Enable automation that reduces risk and improves operational maturity
You're on the cusp of RMM greatness