PitchIT 2023 is Officially Underway!
The application window has closed for this year.
Congratulations on the 27 companies selected to participate in the PitchIT class of 2023! Read the press release about this year's cohort here.
PitchIT is our annual accelerator program, dedicated to incubating growth in our startup integration partners dedicated to the MSP space. Now in its 5th year, we're looking to take a new group of innovators to new heights!
How do we help those companies selected to this year's program?
The companies take part in a 16-week business transformation course, led by industry experts, covering sales, marketing, branding and messaging, product security, and more, plus pitch-building
We also engage in co-marketing with this year's selected vendors on a series of webinars within the MSP space to gain awareness, refine their pitches, and share their expertise to our partners
Listing on ConnectWise Marketplace to highlight their integrations to our partners
The top 3 finalists are paired with a coach, and present their pitch live at IT Nation Connect
$100,000 in grant award money – not an investment – to the top 2 finishers ($70,000 for 1st place, $30,000 for 2nd)
There is no cost for you to apply, and no cost if accepted!
Ready to showcase your innovation? Apply Now >>
Why do we do this?
ConnectWise is dedicated to 3 promises to our partners – make it easier to do business with us, invest in partner growth, and more innovation, faster. PitchIT is a perfect vehicle for this. We want to spark innovation and fuel growth for companies who build solutions that integrate with our platform and help make our partners more efficient, profitable, and secure.
Business Assessment
Business Coaching
Marketplace Visibility
Co-Marketing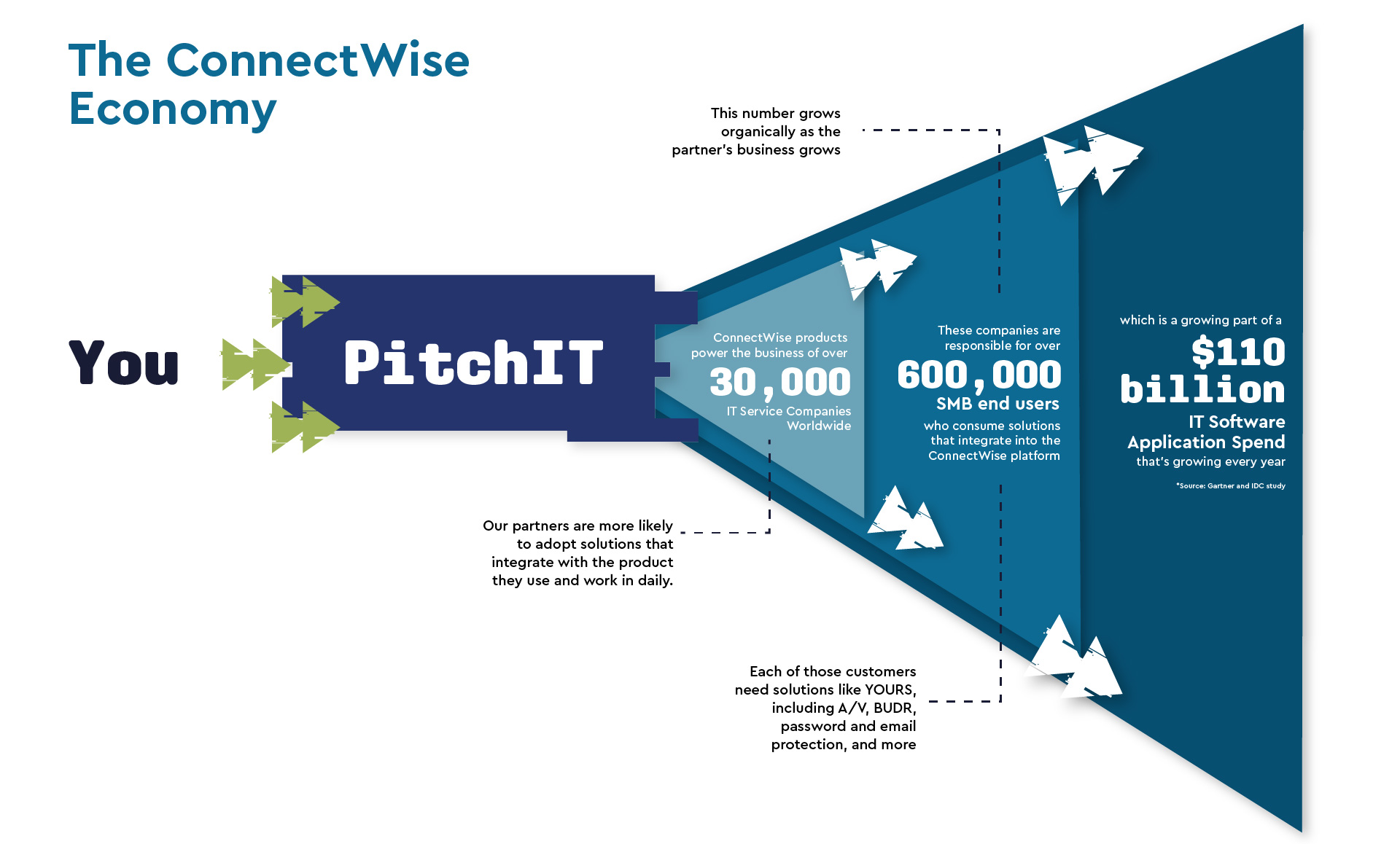 "We were fortunate to be selected in the PitchIT class of 2022. The program enabled us with strategies and actions to improve all aspects of our business. Our classmates help each other get better and succeed, even after the program ended. This is more than a contest, it's a community of brilliant people, with the objective of helping MSPs."
- Eric Murray, Senior product manager at ClearBench
Congratulations to the PitchIT 2022 winner of $70,000 - AlertOps!