eBook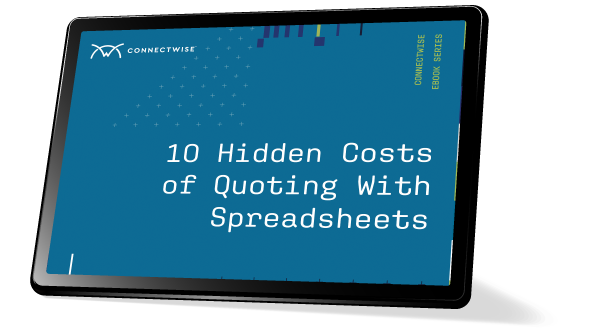 How spreadsheet quotes waste resources—and what to do about it
For many companies, investing in professional quote automation platforms doesn't feel important. Why would you spend more on extra software—especially when traditional spreadsheets do the job just fine?
In reality, spreadsheet quotes are slow and cumbersome, requiring extra maintenance. They're also vulnerable to manipulation from your sales team, who can tweak pricing terms and product data without your permission. On the client side, there's no interactivity, meaning customers will have to contact your sales rep whenever the numbers change.
Enter ConnectWise Sell®, a comprehensive quote and proposal automation solution that can revolutionize your quote and proposal process—helping you close more deals faster. Download the eBook to learn more about the many drawbacks of spreadsheet quotes—and how ConnectWise Sell can boost your sales.
Simplify the quote and proposal process with ConnectWise Sell