Cybersecurity MSP+ Foundation Pack
Cybersecurity that instills confidence - for only $600 a month!
Differentiate with cybersecurity now
With today's uncertainty, you can no longer rely on new client acquisition as your primary growth path. Small businesses are scrutinizing every contract, looking at all angles to reduce costs and control cash flow. One thing they can't ignore now is cybersecurity. How confident are you that your security offering would compare favorably to another MSP? Now's the time to establish a strong security offering and the mechanisms to deliver on it. That's why we developed the ConnectWise MSP+ Foundation Pack—a low-cost starter kit to help you implement an advanced security offering fast.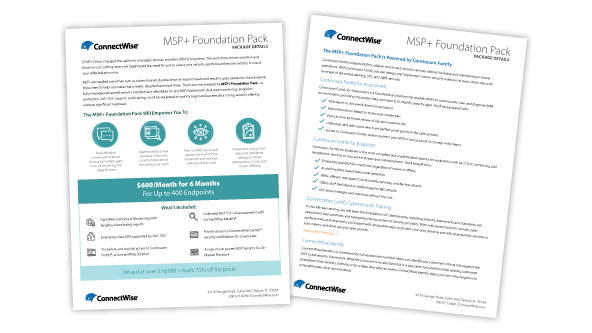 High-value, low-cost, robust bundle
The ConnectWise MSP+ Foundation Pack provides you with the tools, services, and training you need to implement advanced cybersecurity and offer clients peace of mind today while setting them up to scale for the future. For $600 a month (available for six months), the MSP+ Foundation Pack includes:
24/7 managed detection (up to 400 endpoints)

ConnectWise Fortify for Endpoint enterprise-class endpoint detection and response
ConnectWise Fortify for SaaS threat detection and response for Microsoft® 365 and Azure AD

Security assessment tools

ConnectWise Fortify for Assessment includes dark web scanning and monitoring
ConnectWise Identify NIST cybersecurity framework risk assessments

NFR licenses to the full ConnectWise Fortify Suite for proof of concepts
ConnectWise cybersecurity training and resources

Comprehensive security go-to-market playbook
ConnectWise Certify™ security training for two people
View the package details >>
"ConnectWise Fortify has been very important during the COVID crisis. Cybersecurity threats have increased at a time when people don't have time to pay attention. ConnectWise Fortify gives us an additional layer of protection and awareness of what's going on in our client's network."
Peter Melby, CEO, Greystone Technology